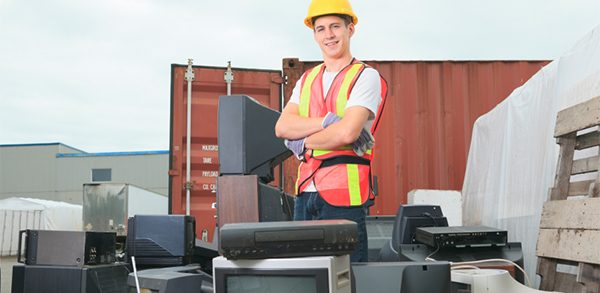 By Veena Clay March 20, 2014
All 50 states currently operate an electronics recycling program. These programs are usually governed by a central recycling law that outlines requirements for disposing, handling, collecting, recycling and reusing electronic devices.
In nearly every state, the recycling program is free, with states providing an online database or 1-800 number to inform citizens about collection sites. Some states opt to charge larger entities with designated numbers of employees a small fee to use the program. Programs also regulate collection and recycling facilities, usually requiring that these meet specific guidelines prior to state certification.
In addition to state programs, the Environmental Protection Agency has organized federal and state electronics recycling challenges that partner with public entities for the environmentally safe disposal, collection and recycling of electronic devices.
The State Electronics Challenge
The State Electronics Challenge is a free program sponsored by the EPA Region 5 Great Lakes Region and specific private sponsors such as Samsung. The program is modeled after the Federal Electronics Challenge, which enlists federal partners for participation in green office equipment management as well as electronics recycling.
Similarly, the SEC works only with state, regional, tribal and local public entities. Private entities are not allowed to partner with the program. Instead, the SEC program recruits public partners to improve the environmental stewardship of their office equipment. This includes recycling computers and other electronics in an environmentally sound manner.
To recycle electronics, SEC partners must use a recycler that has been certified through a third party. The program focuses on nearly every type of electronic device, including computers, monitors, notebooks, printers, copiers and multifunctional devices. Mobile phones and tablets are likely to be included in the near future.
As of 2012, the program reported high numbers of reduction in energy use, greenhouse gas emissions, toxic materials, municipal solid waste and hazardous waste through electronic equipment reuse and recycling. This includes 35.6 million kilowatts of energy, 5,928 metric tons of carbon equivalent and 766 tons of toxic material, such a lead and mercury.
The SEC currently facilitates 130 partners in 36 states, including many Native American tribes and tribal associations, as well a number of colleges and universities across the country.
1. New York State Recycling Program
Like several other state recycling programs, the New York program is governed by recycling laws. In particular, the New York State Electronic Recycling and Reuse Act requires manufacturers to provide electronic recycling services to individuals and certain entities for free. These entities include businesses, corporations with less than 50 full-time employees, nonprofit corporations with less than 75 full-time employees, 501(c)(3)-certified nonprofits and schools or government entities located in New York state.
According to the act, manufacturers of electronics covered in the statute must register with the Department of Environmental Conservation and submit a $5,000 registration fee before sales and offers for sale can begin. All manufacturers in the state must create and make available to consumers a waste acceptance program. This program governs the collection, handling, recycling and reuse of electronic waste. Under this program, New York makes manufacturers responsible for the end-of-life recycling of electronic material.
In addition, retailers are also covered under the act. "Retailers" are defined as those who sell more than 10 electronics covered in the statute through "any means," including mail, telephone and Internet. The law requires retailers of electronics to only sell electronics brands that have been previously registered with the state as compliant. These are regularly updated in a list made available online. The law has also implemented a disposal ban that requires retailers to refrain from disposing electronics at solid and hazardous waste management facilities.
The New York State electronic recycling program also regulates collective electronic waste acceptance programs, consolidation sites and both collection and recycling facilities. In addition, several counties, townships, universities and government agencies, including the New York State Department of Environmental Conservation, are partners in the State Electronic Challenge.
2. Oregon E-Cycles Program
In Oregon, electronics recycling is governed by state recycling law, which includes a disposal ban and a free e-cycling program.
Oregon's Electronics Recycling Law (enacted in 2007) bans the disposal of electronics at solid waste disposal sites, and also prohibits waste managers from knowingly accepting electronics at these sites. Those in violation of the law could face a fine of up to $500 per violation. The Oregon Department of Environmental Quality provides forms and outreach materials concerning the ban as well as facts sheets and guidance for the proper collection and handling of both electronic devices and cathode ray tubes.
The Oregon E-Cycles Program is a free program operating through statewide collection sites open year round. The program allows individuals to bring seven or fewer electronic devices to collection sites certified with the department by meeting specific DEQ Environmental Management Practices. These ensure that electronics are collected and handled in a way that lessens the impact on both the environment and human health. Acceptable devices include computers, monitors and televisions, with computer peripherals (keyboards and mice) acceptable starting in January 2015.
Currently, the City of Corvallis is the only partner of the State Electronics Challenge in Oregon.
E-Cycle Washington
Similar to the programs in New York and Oregon, E-Cycle Washington is a free state electronics recycling program with drop-off sites located throughout Washington state. The program currently accepts a number of electronics devices, including computers, televisions, portable DVD players, tablets and e-readers. Unlike the Oregon program, computer peripherals are not accepted in Washington.
According to the State of Washington Department of Ecology, the program has collected 215,336,551 pounds of electronics since its inception in 2009. Only 2% of this total volume has gone to landfills, and the program ensures that obsolete electronic are steered clear of Third World countries. Not all recycling is handled in Washington state, however, and some out-of-state processing does occur, along with the export of electronic materials to approved facilities.
The state of Washington currently has two SEC partners: the City of Tacoma and the Port of Seattle – Aviation Division in SeaTac, WA.
State Electronics Recycling Program
Statewide electronics recycling programs help regulate and organize the way that electronics are handled and collected throughout the U.S. These programs and their respective laws form a foundation for electronics recycling in America that influences both public and private environmental responsibility programs. State programs give users a viable option for electronics recycling that continues to grow and expand throughout the country.