As electronic devices increasingly replace old modes of data storage and communication both in and outside of the office, the amount of information they hold and the accompanying security risk they pose if improperly disposed of is only growing. ERI offers a one-stop solution for ITAD services both domestically and around the globe.
At ERI, we track electronic devices from the moment they arrive at an ERI facility to final disposition using our proprietary tracking software, MyTrackTech, to guarantee complete data destruction and peace of mind.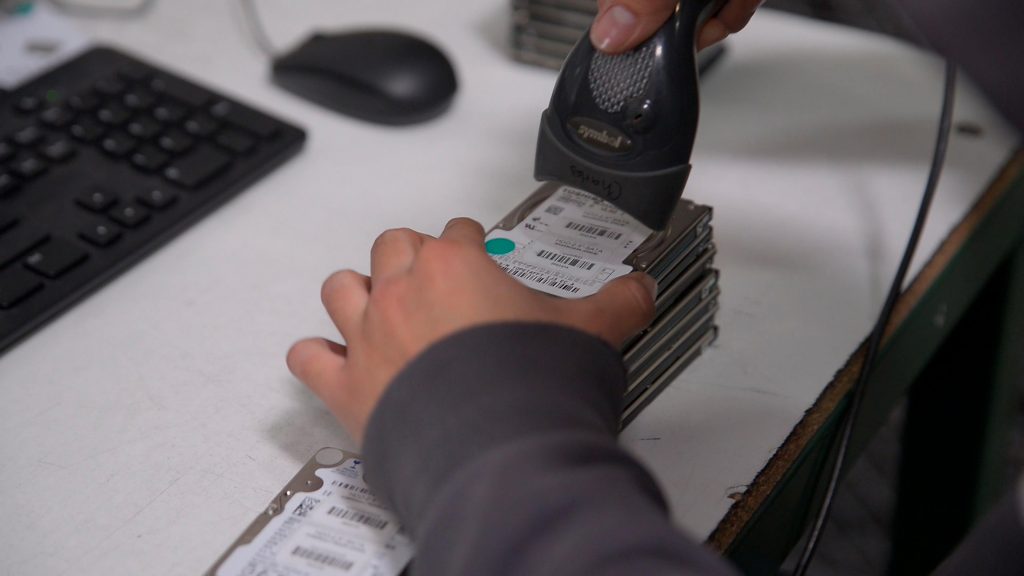 ERI uses a proprietary system to track all electronics from the moment they enter an ERI facility to their final disposition.

ERI wipes devices of their data in accordance with Department of Defense standards.
When your electronic device arrives at an ERI Facility, it is first registered and assigned a serial number, allowing both you and our team of recycling technicians to track the device through each step of the recycling process – regardless of whether it is slated for refurbishment, parts recycling or the shredder.
ERI wipes data electronically or through degaussing in accordance with Department of Defense and National Institute of Standards and Technology protocol to ensure your data is never compromised. If devices are still functional, they will be refurbished or broken down into parts for reuse or resale.
However, if a device is obsolete or a request has been made for it to be destroyed, it will be sent to our state-of-the-art, custom-designed shredders, which guarantee complete destruction. When the shredding process is complete, your device is sorted into raw commodities, such as plastics and metals, – 100 percent of which are recycled – and sent to our downstream partners.
A Certificate of Destruction, generated by MyTrackTech, can be requested at any time, verifying the electronic device and any information it contained was destroyed.
Electronic devices are the fastest growing waste stream, representing unparalleled opportunities for hackers and data thieves. Protect your sensitive information by responsibly recycling your electronic devices. Partner with ERI today to make sure your data security doesn't end up in the trash.
For more information on our comprehensive asset management solutions, contact ERI at 1-800-ERI-DIRECT or request a quote in the sidebar.
Once the device has been registered, all data will be completely destroyed. ERI provides data destruction/sanitization to all clients in a variety of manners:
Software Based Destruction:
Destroys data in accordance with the standard set forth by the U.S. Department of Defense (DOD 5220.22M Specifications) and National Institute of Standards and Technology (NIST 800-88 Guidelines for Media Sanitization).
Physical Data Destruction:
Destroys data utilizes ERI's shredding technology. Guaranteed data destruction.
Database Security Management:
Video verification of destruction (i.e., live video feed).
ERI services the entire US & has partners around the globe.  Speak to an account representative today!
Request A Quote
Did You Know?
Just 1 gigabyte of data can equal as many as 675,000 pages of information.
Most computer hard drives are 500GB, meaning they can contain up to 337.5 million pages of information!
MIT tested over 150 used hard drives and over 92% contained recoverable sensitive information including social security numbers, credit card numbers, medical records and more.
An average small data breach costs a company $3.5 million dollars.
The two most common causes of data breaches are viruses/malware & misappropriated e-waste.
Many states mandate e-waste recycling, and more companies are now starting to mandate data destruction for company devices.
Electronics are the fastest growing solid waste stream in the world.
E-waste can contain lead, mercury, cadmium and other hazardous materials which when improperly recycled can leach into the soil and groundwater.
More devices today contain sensitive data, from smartphones to computers to tablets and beyond. This data must be destroyed when a device is deemed obsolete, or the information can be obtained by e-waste data miners.
Previous
Next
The ERI Advantage
Learn more about ERI by clicking on each advantage below.
ERI wipes devices in accordance with Department of Defense (DOD) and National Institute of Standards and Technology (NIST) standards before being sent to its state-of-the-art e-waste shredders. To further ensure the safety and security of client data, ERI offers video verification of process as well as a Certificate of Destruction.

ERI is the nation's largest e-waste recycler, with eight facilities servicing every zip code nationwide, and partners around the globe. It doesn't matter where a company, organization or individual is located, ERI is here to serve.

Electronic devices are assigned a serial number, enabling tracking from entry to final disposition using ERI's proprietary technology, MyTrackTech™. Information regarding electronic devices can be accessed at any point in the destruction and recycling process, ensuring complete transparency and verifying all regulatory requirements have been met.

ERI was the first e-waste recycler in the U.S. to be dual-certified by e-Stewards and R2, demonstrating its continued commitment to maintaining the highest environmental standards.

No matter the type of organization or company, ERI can help safely and responsibly recycle electronic devices, offering add-on services such as glass cleaning, mail back, asset refurbishment, trailer staging, direct pick- up and white glove service, among others.