Data Center Services
When services are required in your data center, whether it be data destruction, rack removal, consolidation, relocation, or a full data center decommissioning, ERI has the experience and expertise necessary to ensure the process is done in a secure, responsible, environmentally friendly, and efficient manner. As your data center service partner, ERI will ensure these five critical requirements are met:
Data Security
Information Privacy
Environmental Protection
Efficiency and Maximum Resale Value
Traceability
We offer a full range of services to provide you the safe removal and disposal of equipment. Services include decommissioning, on-site data eradication, data destruction services, and IT Asset Disposition (ITAD) services. ERI also offers relocation services for data centers and handles all aspects of the transfer including secure logistics.
Mismanagement of data center equipment and the data which is stored on it poses substantial security risks, potential fines, and massive damage to your brand's reputation.
ERI's center decommissioning team consists of dedicated account technicians who are specifically trained and experienced in data center environments, along with a full team of on-site engineers and specially trained logistics professionals, all of whom ensure secure efficient decommissioning services are provided. ERI's data center services adhere to all ISO 9001, e-Stewards, and NAID procedures.
ERI's data center decommissioning services are specifically designed to help you achieve 100% compliance, reduce risk, minimize environmental impacts, and maximize the value recovered from retired assets – most importantly all while preventing any disruption to your day to day business operations.
See How ERI Helped This Fortune 500 Company Cover Over 33% Of Their Data Center Decommissioning Through Remarketing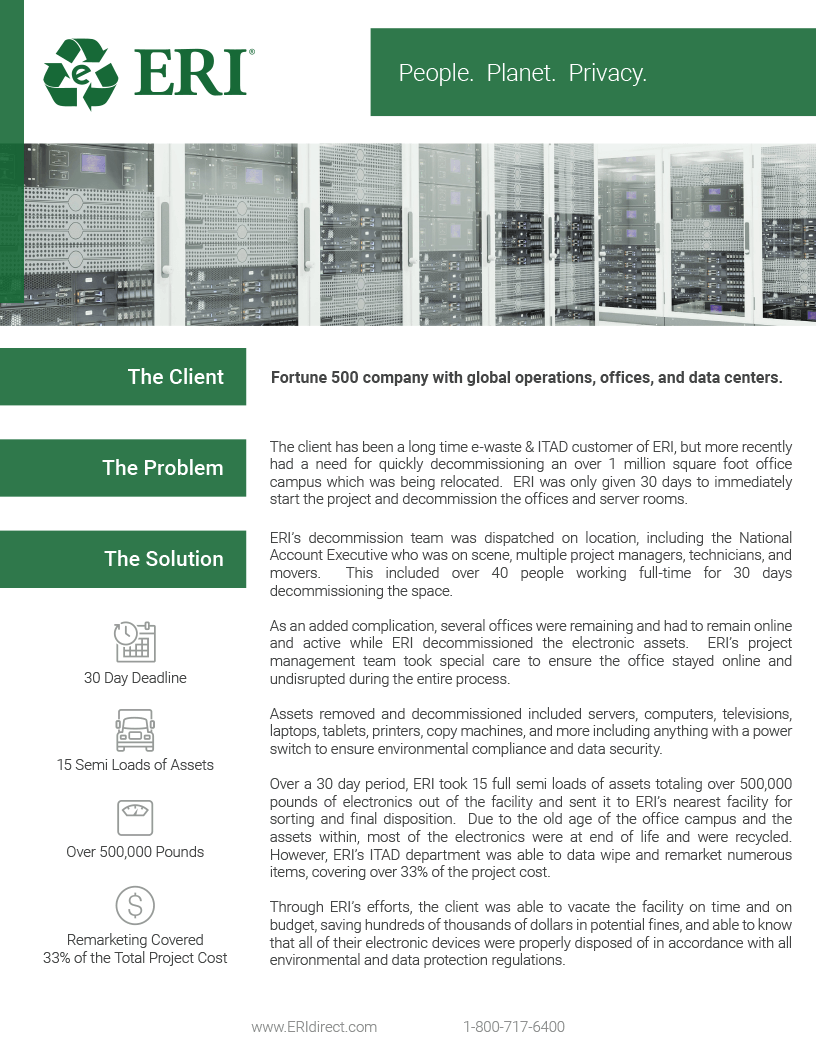 Download our Data Center Decommissioning Case Study
---
Inventory & Appraisal
ERI performs a full inventory evaluation to capture serialized asset information, makes, and models, and will provide a market value appraisal for all equipment and work with you to determine the best final disposition per item.
Redeployment / Lease Return
ERI's technical expertise includes testing, diagnostics, reconfiguration, and refurbishment services to assist in repurposing data center equipment and put it back in an enterprise environment or return it to the leasing company.
Remarketing
ERI's expertise in data center services includes the ability to remarket (or resell) equipment through a variety of channels at a high velocity, maximizing the return on your equipment.
Secure Logistics
ERI ensures 100% secure transportation of your equipment as well as the option to add GPS tracking to our transport vehicles. ERI's facilities are all NAID AAA certified and via our proprietary software, Optech™, our customers know exactly where each device is at any given point in time.
Responsible Recycling
For those devices which do not have a resale value, ERI is e-Stewards and NAID AAA certified to responsibly recycle all devices after the data has been sanitized.
Data Security
All of ERI's facilities and processes are NAID AAA certified to ensure the highest data sanitization and handling practices in the industry. Our practices also adhere to the United States Department of Defense guidelines to protect your sensitive information.
ERI is the largest fully integrated Electronics & IT Asset Disposition (ITAD) provider and cybersecurity-focused hardware destruction company in the United States.

Contact An ERI Expert