Green Intelligence with Optech™
Optech™ is ERI's robust, online IT and electronic asset disposition portal. It provides real-time transparency into a client's account activity sharing asset details from receipt through final disposition. We can even provide an Environmental Impact Report to support your sustainability initiatives!
Optech™ is an extensible and configurable solution to meet the tracking needs for both data and non-data bearing assets of any organization, regardless of size or industry. ERI clients can securely access the portal 24/7 and can export key data on demand, run asset reports, or order services.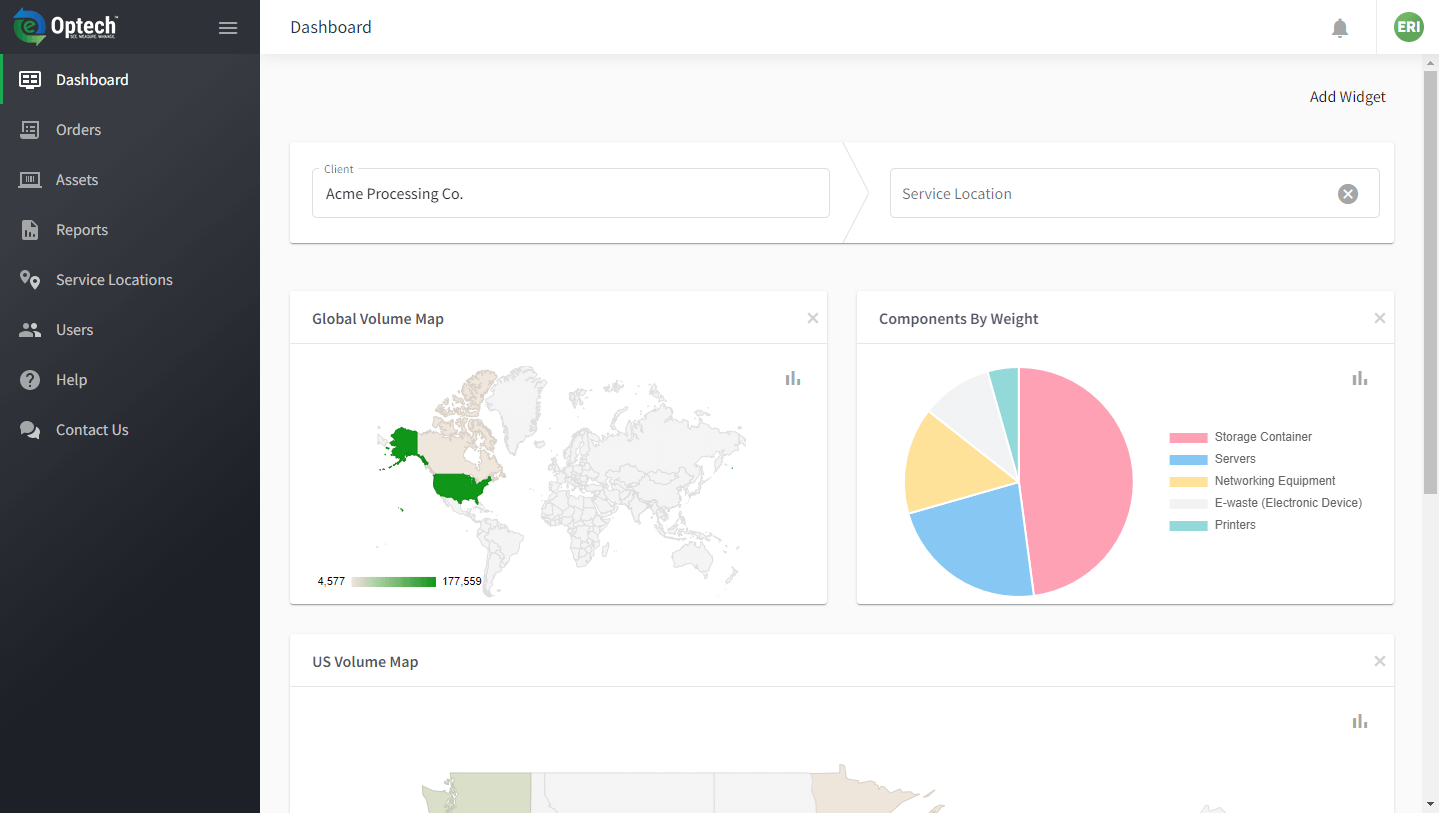 Optech™ FAQ
The following questions are often asked regarding Optech™.
Everybody claims to have a tracking system, what makes Optech™ different?
Optech™ is the comprehensive management platform for ERI's fully integrated operation. ERI is the only company in the industry to have its operation built on top of a fully integrated solution, making ERI the only company that can provide true real-time visibility into all aspects of asset disposition. ERI is also able to be the most transparent due to the absence of multiple layers of downstream vendors. ERI has the only fully integrated process and has designed and developed a unique platform and portal to manage its operations and to provide transparency to their clients.
Another critical ingredient, also unique to ERI, is the dedicated, in-house software development team to maintain and update Optech™, as well as to address any special requirements of a client.
Are standard reports included at no additional cost in Optech™?
Yes, in addition to dashboards and ad hoc data exports, many standard reports are available. The following list reflects the ten most popular Optech™ reports.
Top 10 Most Popular Optech™ Reports
Receiving

Lists shipment details by asset categories and weights.

Certificate of Recycling & Data Destruction

This report provides make/model/serial of all assets and will list asset categories and weights for bulk recycling.

Serialized Items Manifest

A granular report detailing every asset received on a given order.

AM Inventory

An asset-level report listening inventory and disposition for a client.

Asset Reuse

Listing of assets that have been sold for reuse.

Order Status

List of customer orders with ERI and their status updates.

Mass Balance

A listing of weights and categories of materials generated from client orders.

Invoice

Final billing statement for services rendered.

Bill of Lading

Document signed by both parties at actual pickup and serves as a receipt for the pickup.

Box Tracking

Reporting with tracking information for all ERI Box Program services.
Can we brand it with our logo and colors?
Yes, at no charge. Of course, any change in overall layout, more complex designs, or changes to functionality will need to be scoped to determine level of effort and the related cost.
Can Optech™ be integrated with third party systems?
Yes, Optech™ was designed and built to integrate with ERI internal systems such as the Commodities Management console, partner portals, and client enterprise systems. ERI's talented Information Systems team can evaluate and scope the level of effort for commercial and proprietary software system integrations required by a client.
What is the annual cost for Optech™?
None. Optech™ is a value-added service to its clients.