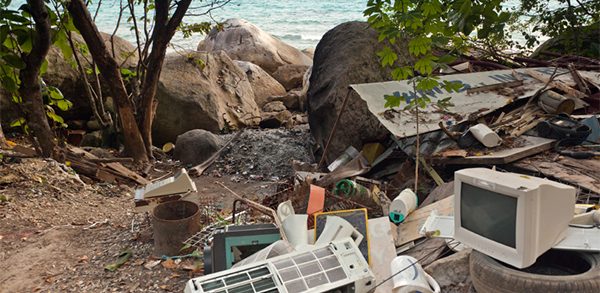 By Veena Clay April 15, 2014
For years, the developed world has been shipping its waste material to Asia and Africa for recycling. It is estimated that the U.S. exports an estimated 70-80% of its e-waste, and electronics production in America is expected to skyrocket over the next five years. This means that exports to underdeveloped countries could continue despite efforts to reduce the amount of waste sent away for other countries to handle.
One such country well known for the mount of e-waste it collects from the U.S. and the European Union is Kenya. According to statistics, 15,000 tons of computers and mobile phones are sent to Kenya for recycling every year, and that is just an estimate. In addition, Kenya itself is generating a significant waste stream, as use of mobile phones and laptops take up a growing trend in the country.
For instance, in 2010, Kenya disposed of 2,500 tons of personal computers, 500 tons of printers, and 150 tons of mobile phones. These figures seem scant in comparison to the hefty numbers in the U.S. (which disposed 423,000 tons of computers, 290,000 tons of hard-copy devices and 19,500 tons of mobile devices in the same year). Still, Kenya's numbers reflect a growing saturation of electronic devices throughout the country. Its mobile rate penetration is currently at 63%, and Internet penetration is more than 18.6% and growing.
It makes sense, then, that Kenya's officials are searching for ways to get ahead of the incoming onslaught of issues and problems raised by an ever increasing and expanding waste stream. Lessons can be learned from China, one of the world's biggest e-waste importers, and a country well known for its pollution.
In China, provinces and regions are littered with informal collection and recycling sites where untrained residents use acids to strip away unwanted parts from precious metals found in electronic waste, simply allowing the remnant toxic waste to poison streams and rivers. Large, formal recycling centers also feed into the widespread pollution of soil, air and water with damaging effects on the health and well-being of local residents.
Kenya, on the other hand, is hoping to avoid such environmental and health disasters by investing in innovation and technology meant to reduce the amount of pollution and toxicity associated with e-waste recycling while at the same time increasing the rates of recycling throughout the country.
The first Kenyan e-waste recycling hub
Funded by a sprinkle of native investors, the German Development Bank, and a keen private businessman, Kenya's first electronics recycling hub shows promise. Experts report the model is important because it has potential to be duplicated throughout the continent, which could have widespread effects on the recycling efforts already underway at recycling dumps in Nigeria and Ghana, as well as smaller regions with fewer resources for proper recycling techniques.
It is called the East African Compliant Recycling Center, and it runs on the premise of processing e-waste collected by trained residents so that it can then be sold back to companies throughout Kenya. CEO Robert Truscott says it is the first model of its kind in the world to offer collectors a "a fair and transparent price in actual fact," effectively connecting individual collectors to global markets.
The structure of the hub requires a foundation of resident collectors who search for the e-waste, separating it from other forms of trash at dumps throughout the country. Collectors include formally trained collectors and informal e-waste hunters who also participate, drawn by the lucrative cash-in-hand process that takes place at collection points like Mukuru. There are 40 such collection points (shipping containers) run by independent local entrepreneurs planned, and four are already funded.
New legislation aimed at regulating the hub and the e-waste recycling process in general are expected to go into effect in September 2014, with widespread anticipation. Many of the laws were supported and even written partly by large U.S.-based corporations with a stake in the hub's progress. For instance, Dell Computers sponsors two of the collection containers found in Mukuru and Mombasa. This participation reflects a trending element in the recycling world: requiring producers of electronic goods to be responsible for the sustainable end-of-life processing of e-waste.
The new Kenyan hub also reflects a push for a common, harmonized East African approach to the global e-waste crisis. Neighboring countries like Uganda may be able to replicate the Kenyan model, thus ensuring that shared environmental resources do not become contaminated with e-waste toxins despite positive efforts in one single country.
The E-Waste Solutions Alliance for Africa, a collaboration between Dell, HP, Nokia, Phillips and the Recycler Reclaimed Appliances (U.K.) Ltd, has assisted with the hub's structuring and goals — one of which is to create green jobs. According to Truscott, the program aims to create one job per ton of e-waste collected and treated every month. All workers will be trained to ensure the safe and environmentally friendly handling of the stream of e-waste shipped into and created within Kenya's borders.
Residents seem relieved that the new industry is creating a lucrative means of survival in their country. With collectors able to earn $45 to $60 after a day's worth of work, the task stands as one of the best jobs available in the country for residents used to living below the minimum wage. As the first of its kind, Kenya's new e-waste recycling hub stands on the pioneer front of sustainable recycling efforts in Africa and will definitely be one to watch as countries and governments continue to address the growing global e-waste crisis.
At home here in the U.S., it is imperative that we follow Kenya's lead and always recycle responsibly and domestically. Sending e-waste overseas is not only illegal, but also a strain on the global environment — it is not just a far-off country's problem to deal with. If you have questions about recycling your electronics responsibly here at home, please contact ERI.