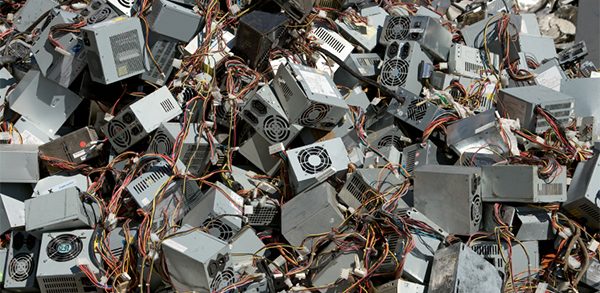 By Veena Clay April 4, 2014
Beginning as early as the 1970s, countries around the world began recognizing the unique issues surrounding electronic waste and electronic waste recycling. Many countries started holding conventions and meetings to discuss the issue, which resulted in government-run recycling programs as well as a number of rules and regulations still in use today.
Internationally, the Basel Convention of the Control of Transboundary Movements of Hazardous Wastes and their Disposal, also simply known as the Basel Convention, became the guiding force for regulation of e-waste imports and exports around the world.
The Basel Convention
The Basel Convention, created in Basel, Switzerland, in early 1989, is a treaty that established worldwide protocols for the transport of hazardous waste, including e-waste, between countries. It also contains provision for regulating the manufacturing of electronic devices with an eye toward adding recycling and reuse to the end-of-life processes for electronic devices.
So far, 181 countries have signed and ratified the convention. The U.S., Haiti and Afghanistan are the only countries that have yet to ratify the Convention, although they have signed it.
In 1990, the Convention was amended to place a ban on the export of electronic waste from some of the wealthiest countries in the world to underdeveloped countries. The ban was initiated due to the growing realization among global governments and environmental organizations like Greenpeace that e-waste can be extremely damaging to the environment and requires a significant amount of careful effort to prevent pollution and human toxicity during the recycling process. So far, the ban has been passed twice by consensus, but has yet to be ratified by the Convention.
Today, one of the biggest importers of electronic waste for recycling is China. However, with recent improvements to electronic and general recycling policies, China's role in the global recycling industry is changing.
China
Known as the "electronic wastebasket of the world," China is a leading electronics waste recycling country. However, much of its processing consists of an informal network of neighborhood recyclers that often incinerate and handle highly toxic electronic waste without technical supervision or regulation. Many locales throughout China have suffered as a result from rampant pollution of soil, rivers, streams, lakes and air.
In addition, China's domestic e-waste production is growing and is expected to continue to do so exponentially as more consumers turn toward electronic devices at home, during work and for play. According to the United Nations News Center, the country already produces a significant amount of e-waste domestically — 2.3 millions tons. In fact, e-waste from old computers and mobile phones will be 200 to 400% higher and 700% higher, respectively, by 2020.
In light of the increased risks to the environment and health of Chinese citizens, China implemented Operation Green Fence in 2013. This 10-month-long program was an effort to crackdown on poorly sorted electronic and other forms of waste imports and to increase vigilance at points of inspection. Since China controls nearly 70% of the global recycling market, this policy shift has had a huge impact on the industry, causing many big exporters of e-waste to re-evaluate.
Though Operation Green Fence officially ended in November 2013, China has continued to implement the policy, forcing traders and routine exporters to search for alternative avenues. Traders have begun shifting down the volume of e-waste exported to China and are looking to other countries like India and Vietnam where regulations are less stringent. Overall, the policy resulted in 7,600 tons of recyclable material being rejected in the first three months of operation.
Japan
Electronic recycling in Japan consists mainly of an appliance recycling system that makes consumers responsible for fees and or transportation associated with recycling. The system was developed by the Association for Electric Home Appliances and is governed by Japan's Home Appliance Recycling Law.
Unlike, China, Japan is not a major importer of e-waste. Instead, most of the waste produced in the country comes from within its own borders. Consumers use recycling tickets to return appliances back to collections centers, which then transport them, either back to manufacturers with recycling capability or recycling facilities located nearby.
Issues within Japan's recycling system vary. Prominently, the issue of a shortage of workers in light of increasing volumes of e-waste has been a growing concern, as has illegal dumping. Overall, this system recovers about 75% of all waste produced in the country.
Switzerland
In 1991, Switzerland became the first country in the world to begin recycling e-waste through a comprehensive countrywide program. Switzerland currently has the highest overall recycling rate at 52%, followed by Austria (49%) and Germany (48%).
In 2012, Switzerland recycled 129,000 tons of electrical and electronic devices — about 4.6% of the overall 2.7 million tons of waste recycled in the country for that year. The country's recycling program consists of appliance collection services offered free of charge to consumers.
E-waste, in particular, is recycled in a number of treatment steps that strip away hazardous materials and sort the remaining material for items of reuse. The dumping of electronic waste through city waste systems is currently banned under Switzerland's main recycling legislation, the Ordinance on the Return, Taking Back and Disposal of Electrical and Electronic Equipment (ORDEE).
Biggest issues in the global e-cycling industry
Around the world, the biggest issues concern the import and export of electronic and other forms of waste from developed industrialized countries to less-developed nations that lack the resources to handle the amount of resultant pollution and environmental damage.
Since China has become a major player in the global recycling industry, its actions tend to dictate the dynamics of the market. However, other countries like Japan and Switzerland possess unique and interesting recycling programs that are also playing a large role in changing the landscape of the current global recycling industry.