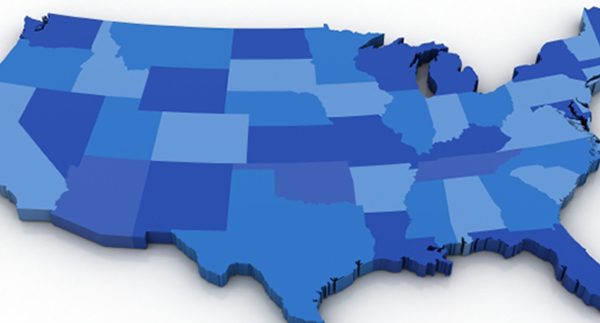 By Veena Clay April 30, 2014
America is now well known throughout the world for its accumulation of waste and not so well known for its ability to adequately recycle and properly dispose of it. In fact, much of America's e-waste, in particular, is exported to Asia and Africa, where less-than-ideal recycling conditions are causing major pollution and health risks.
Americans are now throwing away more than 500,000 computers and mobile devices every day, and this number is destined to increase. The U.S. has yet to adopt a national recycling mandate or federal legislation that would address the growing crisis. However, there are a few states with stand out performance in the e-waste collection arena.
Recently, the Electronics TakeBack Coalition released a study called "10 Lessons Learned From State E-waste Laws," which took a look at America's best e-waste collection states — Minnesota, Oregon and Washington — and attempted to analyze what makes them thrive in a nation with less-than-ideal recycling rates across the board.
Another state, California, shows considerable promise in the effort to address electronic waste accumulation with its cell phone recycling program. In addition, The Electronics Recycling Coordination Clearinghouse has composed the latest e-waste collection per capita numbers, revealing that Vermont is also a top collector based on resident populations.
Minnesota
Under the Minnesota Video Display and Electronic Device Collection and Recycling Act, signed into law in 2007, a host of collectors across the state receive covered electronic devices directly from resident households. More than 200 collectors, consisting of both public and private entities, share in the responsibility of ensuring that electronic devices are sent to government-registered recyclers.
Manufacturers must also share in the responsibility of properly disposing e-waste. Manufacturers of video display devices are required to register annually with the state, paying a yearly registration fee. They must also assist with the collection and recycling of the devices they manufacture, and file an annual report documenting their efforts in detail.
One key feature of the Minnesota program is the convenience and ease of collection. Collectors include a wide range of private businesses (such as Staples and Office Depot), landfills, junkyards, municipalities and counties making it fairly easy for residents to return electronic devices to a safe place for recycling or proper disposal. Residents also have the opportunity to drop off devices at regular events and through pick-up and mail-back services.
Oregon
In Oregon, one of the nation's top recycling states overall, e-waste is dealt with in a similar manner. Like Minnesota, the state also passed its electronics recycling legislation in 2007. Also similar to the Minnesota program, manufacturers of CEDs must register with and pay a fee to the state for the collection and recycling of electronic devices.
Manufacturers in Oregon have the option of collecting CEDs through their own statewide programs or joining a state contractor program by registering with the Department of Environmental Quality and paying a recycling fee. The State Contractor Program hires and trains workers for collection sites and assists with publicizing and organizing both collection and shipment of CEDs to registered recycling centers.
To ensure convenience and ease of collection for consumers, Oregon requires that a collection site be located in every county and every city with a population of 10,000 or more residents. The state's disposal ban, which has been in effect since 2010, also keeps electronic devices out of landfills, ensuring a greater likelihood of proper disposal.
Washington
Just as in other top electronic waste collection states, in Washington, manufacturers play a large role in covering the cost of e-waste collection and recycling.
Of note is the "fair share" aspect of Washington's electronic recycling legislation. Under the law, manufacturers are required to take back their allotted share of branded e-waste. A company is not limited to collecting only the waste it initially manufactured, but also must collect at least the percentage of its return share multiplied by the total amount of e-waste it collects each year.
Like Oregon, Washington law requires a collection site in every county or city with a population of 10,000 or more residents. Like Minnesota, Washington uses a wide variety of collection sites, making it as convenient as possible for consumers to properly dispose electronic devices.
Other standouts: California and Vermont
Though the preceding three states have the top rates when it comes to e-waste collection, a few other states have excelled based on different analytics. California, for instance, has been applauded for the integration of its 2004 Cellphone Recycling Act.
The act requires retailers to put specific systems in place for the collection, recycling or adequate disposal of cell phones. It also requires that a cell phone recycling rate be established and published once a year and requires state agencies that purchase cell phones to submit an annual certificate of compliance.
The beauty of the California program is that it has created a level of social transformation reflected in e-waste statistics for the state. California residents are seven times more likely to recycle their cell phones than residents of other states, and are drawn to the accommodating nature of the program, which makes it convenient for consumers to participate consistently.
The ERCC reveals that Vermont has one of the highest per capita collection rates in the nation at 7.7 pounds of e-waste collected per person in 2013. A look at Vermont's e-cycling program shows the practical advantages of employing a large number of diverse collections sites throughout the state along with several one-day e-cycling events to ensure adequate electronic waste collection on a consistent basis.
State e-waste collection rate must increase across the nation
Throughout the nation, e-waste represents a small fraction of the overall waste accumulated, but is the fastest growing waste stream with some of the most detrimental consequences. Although top e-waste-collecting states can definitely be applauded, it is clear that the U.S. has a tough job ahead in keeping up with the amount of electronic waste produced and discarded. The hope is that these states can set an example for others in the effort to sufficiently address the nationwide e-waste crisis.