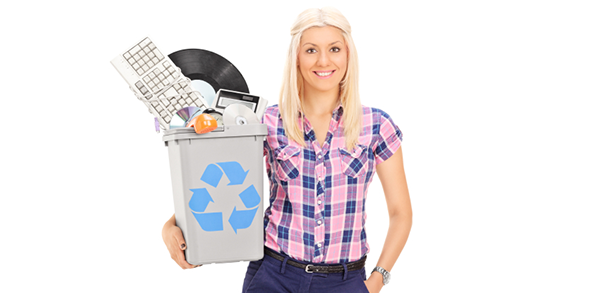 By Veena Clay December 23, 2014
Despite the dismal numbers commonly associated with the e-waste and overall recycling efforts in the U.S., some cities are making a name for themselves by implementing effective e-cycling programs. These cities are combining recycling technology and terrific organization to address the pressing issue of mounting e-waste streams throughout the world.
E-waste is currently the fastest-growing waste stream in America. The bulk of responsibility for addressing electronics recycling in the U.S. has typically fallen to states. This is largely due to an absence of federal legislation that specifically addresses the e-waste crisis and provides guidelines for collecting and curbing the growing e-waste stream.
Today, 25 states currently have e-waste legislation in place, 19 of which ban the disposal of electronics into landfills. This means that in a large number of states e-cycling remains unlegislated unless regions take it upon themselves to address the issue.
The anatomy of a city e-cycling program
Many cities are stepping up and making e-cycling a top priority. Most share a common design shaped to fit the particular needs of a city that varies according to the level of funding provided in support.
City programs typically consist of partnerships between departments. These interdepartmental connections provided the infrastructure for organizing the most important parts of an e-cycling program: collection and processing.
In many cities, the sanitation or public works department plays a prominent role in development and implementation of an e-cycling program. Also, a solid partnership with a reliable e-waste recycling service is key.
Like most state e-cycling programs, the focus is on categories of electronics commonly referred to as consumer electronic devices, or CEDs. CEDs may include TVs, cell phones, CD or DVD players, telephones or other devices used in the home or office.
Collection can take place through drop-off centers or through curbside or building pickup services. Each of these are typically free of charge, but in some instances may incur a fee that citizens must pay (typically ranging from $5 to $20 per device). Annual collection events are also common features of city programs.
Below is a sampling of a few of the latest city initiatives standing on the horizon of the e-cycle movement.
New York, NY: Residence building storage and pickup
The New York City Department of Sanitation recently introduced a city e-waste recycling program currently taking off in condos and co-ops throughout the city. The program looks promising in light of the city's overall recycling efforts, which leave much to be desired, according to statistics. New York City currently recycles only 17% of its overall waste stream.
The e-waste program involves an in-building recycling service that aims to make e-cycling convenient enough to keep electronics out of the city's waste stream. Buildings with 10 or more units are eligible to participate in the program, which offers collection for qualifying electronics as well as storage bins for housing soon-to-be collected devices.
Qualifying electronics include televisions, computers, monitors and phones. Items containing hazardous materials, such as batteries and light bulbs and large items like appliances, are excluded from the program.
In addition to collection and storage, the program also offers other services such as borough-wide collection events. These events allow all residents of each of New York's five boroughs to drop off unwanted electronics that can then be sent to the city's e-cycling partner. All services offered through the program are free.
East Baton Rouge Parish, LA: Nonprofit partnership
The East Baton Rouge Parish Single Stream Recycling Program incorporates nonprofit partnership and collection events to combat e-waste increases. The city's recycling office has partnered with Capital Corporate Recycling Council, a nonprofit organization that networks with other nonprofits, schools and community organizations for the reuse of most CEDs. The program does not, however, accept televisions, appliances or stereos.
The parish's efforts have yielded widespread success. According to the city's cumulative recycling report, it has consistently increased recycling and met or exceeded the Louisiana-mandated 25% landfill solid waste reduction goal since 1994.
Sunnyvale, CA: On-call e-waste collection
In Sunnyvale, CA, residents have the option of placing an on-call e-waste collection appointment with the city's customer service department. Residents can leave both trash and electronics, including up to two bulky items such as appliances, on their curbside by scheduling the visit by no later than 2 p.m. the previous day.
The on-call program is not a weekly or monthly service, however. Instead, residents can participate in the program twice per year. A separate garbage collection truck is dispatched on on-call days to collect the electronics or other trash by 6 p.m. on the evening of the event. This on-call method encourages residents to become more involved in e-cycling by adding a level of convenience to the process of e-waste collection.
Mexico border regions: E-cycling facilitated by EPA funding
The border region is soon to be standing on the horizon of the e-waste movement as well. Recently, the EPA released funding from Border 2020 funds, which includes more than $8.6 million in grants, with the sole purpose of collecting and recycling e-waste in border regions. The funding requires using best management practices to divert materials and trash from landfills and dumps that litter the Mexican border.
The EPA teamed up with a nonprofit organization, Fundacion Helice, which has agreed to use $52,500 to build capacity of e-waste collection in Mexicali, Baja California. Similar projects are being proposed for regions along the Arizona-Sonora border.
Cities leading the way with e-cycling
There is enormous support for a state e-cycling efforts, but cities also have their own initiatives. Many of these rely on solid partnerships with a reliable recycling center for success. A city's support for recycling programs is essential. It is certainly good to know that many cities have offered such support and are willing to invest in improved and innovated was to lead the e-cycle movement.