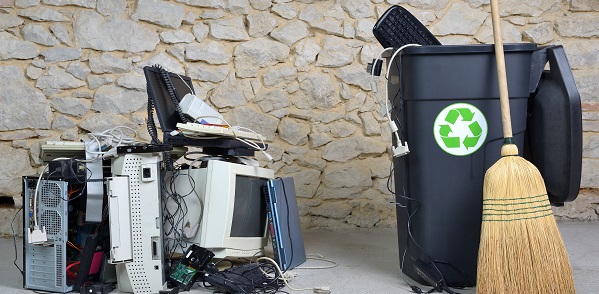 By Veena Clay May 12, 2015
As a recent United Nations University (UNU)
study
shows, America still struggles with a growing electronic waste problem, leading the world in e-waste. It is easy to ponder a number of reasons for this, but it is even easier to present a number of practical methods for safely discarding your aging electronic devices. Recycling has always been an excellent solution, but donating or sending an old device for reuse are also good options.
E-waste Numbers Continue to Grow in the U.S. and Abroad
Speaking of the amount of e-waste in current waste streams, it must be mentioned that the numbers continue to grow. In fact, all around the world, the numbers are staggering. In 2014, the UNU reported over 7 billion pounds of electronics discarded by the U.S. annually. Sadly,
recycling rates in the U.S
are not keeping pace with the mounting volumes of e-waste, though they are improving. In 2010, the U.S. e-cycling rate was 1.3 million pounds, or 19.6 percent. By 2012, the rate increased to 29.2 percent, but still remained just a drop in the bucket compared to the massive amounts of e-waste still not being recycled in America. Worldwide, more than 40 million tons of e-waste are discarded annually. There has never been a better time than now to think carefully and deliberately about more ways to
send or donate
an electronic device for recycling or reuse.
Growth of E-waste Streams Fueled by Consumer Demand for New Devices
In 2013, consumers spent a total of $215.8 billion on electronics in the U.S. That's up from $206 billion in 2012. Driving the market is the sale of smartphones, which alone added up to 138 million phones sold in 2013. Not far behind is the surging number of tablets and computers hitting the shelves every year, and leaving them just as quickly. Globally, the numbers are similarly increasing for sales of consumer electronics. According to researchers, in 2013, an estimated 2.35 billion computers, tablets and mobile phones were sold globally. Although the numbers for 2014 aren't in yet, it has been projected that 2014 will bring sales totals of electronic devices to $3.8 trillion. The huge number of electronics on the market may mean significant technological advancement, but it also means increased waste. Each and every device sold will one day be discarded. The incinerators and landfills are insufficient in terms of quantity or safety to accommodate these numbers, as are the makeshift recycling efforts in many countries like China, India and Africa, where informal recycling is a way out of poverty for entire communities. The environmental effects of each of these methods are far too negative and burdensome for future generations as well as our own. Recycling and reuse are perhaps the best solutions possible. However, without a surge in recycling efforts to match the rise in both manufacturing and consumer demand, even these methods could prove ineffective for such an enormous and still growing issue. That's why it's great to know that donating or sending your old device for
reuse
has never been easier. Read on for a few solid tips on how to do so.
Locate a non-profit currently accepting electronics for reuse.
The number of nonprofits in need of used electronics is increasing as directors begin to understand discarded devices are a ready resource for technological access. Many used computer hard drives and monitors need only be cleared of data and uploaded with new operating systems in order to be up and running again. Programs of this type are useful if a community lacks the financial resources to start a new technology training program or simply needs to offer Internet services to those in need and beyond.
Attend an electronics collection event.
An electronics recycling
collection event
is a great way to discard your old devices, and is also a good way to find out about programs and events in your community. A collection event is usually held once or twice a year by a local recycling center, a non-profit organization, a school or city administrators. These efforts aim to motivate residents to recycle their electronics by providing a central pick-up spot.
Discover the world of electronic buy-backs.
Electronic
buy-back
programs are not new. They've existed for quite some time, with some even predating the surge in manufacturer-driven recycling efforts. A buy-back program allows consumers to send in their old devices and receive cash back on devices that are in good shape. Pricing varies from program to program and depends heavily on the condition of the device as well as its make and model.
Check with your local retailer.
Some local retailers also have special programs for recovering aging electronics devices. Retail chains may have a box set up in to receive discarded devices or may offer a mail-in service for smaller devices. Many of these programs have close connections with e-waste recycling centers who receive shipments of the devices collected and properly dispose of them according to legal rules and regulations.
Locate a recycler with mail-in options.
Recycling services are expanding. No longer does a recycling center simply recycle. Today's centers offer number of services to complement the recycling process. Things like
white glove service
, where a center will come directly to a company site to carry out collection, data swiping and even electronic tracking, are on the rise. In addition, many recycling centers offer a
mail-in service
for smaller electronic devices. The goal here is to make recycling of electronic devices as easy and convenient as possible so that more and more individuals will begin to think consciously about reducing the amount of e-waste in current waste streams.
What Can You Do In Response to the E-waste Crisis?
One of the best ways to respond to the mounting e-waste crisis is to get involved in recycling, donating and reuse. Encouraging family and friends in their efforts are also essential. Changing habits and transforming attitudes about recycling is often the main goal of recycling centers who know firsthand that our e-waste stream has gotten far out of hand. Find a local electronic recycler that can assist you with donating or sending your old device for reuse today.