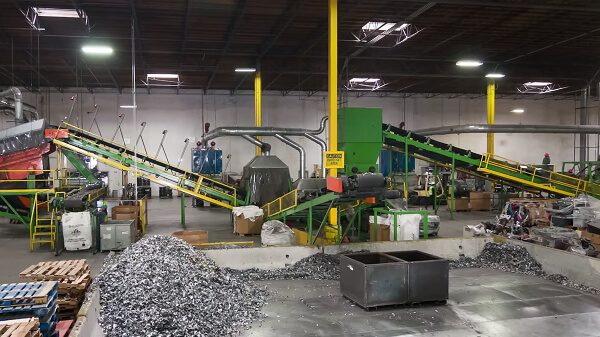 ERI is one of the largest e-waste recyclers in the world and is deeply invested in making that world a greener place. But do you ever wonder what a device goes through when it's recycled by ERI, and what makes the process so comprehensive and secure in the first place? Below are the ins and outs of how a device is taken through the recycling process with ERI.
To start out, ERI recycles a wide array of electronic devices. Some are more common, like laptops, monitors, televisions and cell phones. ERI also takes other e-waste like mice, printers and fax machines, copy machines and stereo equipment. You can find the whole list of what is accepted for recycling
here
.
ERI also offers three main types of services: data destruction, shredding and IT asset disposition/asset management. ERI guarantees 100-percent data destruction and takes its responsibility to recycle every electronic device seriously.
IT asset disposition/asset management
ERI's
IT asset disposition/asset management
techniques are how clients can be sure their device specifically is receiving the most comprehensive destruction and recycling methods. The first step in the process is to label an electronic device so it can be tracked throughout the process. ERI uses its proprietary Optech™ software to ensure all devices are securely destroyed. Each device is registered and labeled with a serial number upon arrival to the facility. Even if the device is slated for the shredder, technicians can keep track of where each device is at all times. Optech™ can also generate a Certificate of Destruction to show that a device and data were, in fact, securely destroyed.
Data destruction
ERI is the only nationwide company that offers guaranteed
data destruction
. The process is a comprehensive one. When a device arrives, ERI assesses what it can do with the device. The device can be refurbished, broken down for parts or shredded, if it's obsolete.
For devices that are deemed reusable in any way, ERI wipes these devices seven to 10 times, using software or degaussing in accordance with standards put in place by the U.S. Department of Defense and National Institute of Standards and Technology. One-hundred percent of the data is destroyed this way. From there, the device is either broken down for parts, completely refurbished for reuse or shredded. The parts are later used to repair other devices.
The security of the process is of the utmost importance to ERI. One of the data destruction services offered is database security management, in which clients are given video proof of their device's destruction via a live video feed. Security in the facility consists of surveillance cameras, third-party security and metal detectors to make sure a device never leaves the premises until the data is completely destroyed.
Shredding
Obsolete electronics, or those specifically designated, are
shredded
. ERI starts by removing toxic items like batteries, bulbs and mercury. The device is then put into ERI's sophisticated shredders, which can handle 30,000 pounds of e-waste per hour, making it the largest shredder in the North America.
The process ERI has for shredding devices is also comprehensive. It's a two-step process. The first step is to break down devices into pieces that are of a manageable size. After that, the pieces are finely shredded so that data is destroyed in the most complete sense. From there, it's possible to sort the pieces into groups like metals and plastics for the best commodity reuse. Then the raw materials are sent to partners to be reused, repurposed and recycled. You can be sure that not an ounce of your device will end up in a landfill.