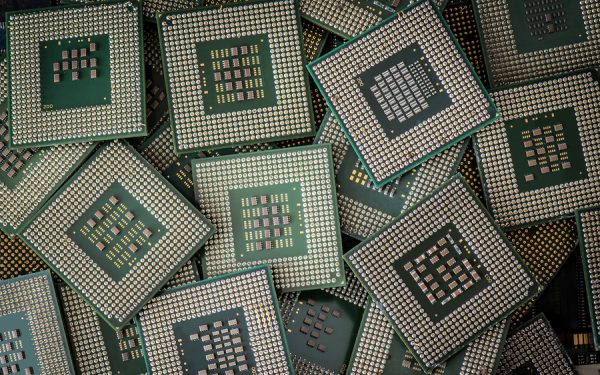 The e-waste crisis U.S. grows continually, shadowing the push for faster and better electronic devices to fuel the demands of the masses. Along with it, the push for federal law on e-waste recycling also grows. In this post, we'll take a look at what's being done on the legislative frontier to legally address the steadily increasing amount of e-waste produced in the U.S.
States and Municipalities Pave the Way
West Virginia is one of 27 states to implement state e-waste laws to protect the environment from e-waste pollution. The state has not mandated e-waste collection. Rather, it, like a number of other states, has made e-waste curbside collection available free of charge through a system of certified e-waste recyclers and collection operations, mostly funded or orchestrated by electronics manufacturers.
New York City is one of the latest urban municipalities to launch e-waste specific laws. The city implemented its e-waste ordinance in January of 2015 and has since reported huge successes, reportedly collecting 5 million pounds of e-waste since the law began.
The question is, is the smorgasbord of laws across a handful of states and municipalities enough to shore the massive tide of electronic waste building up in the country?
The Need for Federal E-waste Law
If you have ever searched for one comprehensive federal law covering electronics recycling, you've probably had trouble finding it. That's because there is currently no federal legislation requiring everyone to recycle electronics.
In fact, the closest the U.S. has come to a nationwide e-waste recycling mandate is actually a federal bill aimed at curbing illegal exports of e-waste to third world countries. That bill, called the Responsible Electronics Recycling Act (RERA), has sat idle in a House committee for over two years.
Beyond the RERA, the Resource Conservation and Recovery Act has enough federal authority to apply in all states. However, it too has serious limitations. The act mainly covers devices containing hazardous materials, but some of these can be exempt from the law if sent for recycling.
This brings up important questions regarding the current state of federal e-waste legislation. Why is federal law needed and what's being done to get it in place?
Proponents of a push for federal e-waste law say the state laws simply aren't capable of fully addressing the issue. Most of the current "producer responsibility" laws place the onus for e-waste recycling, including funding and collection, on electronics manufacturers. With laws varying greatly from state to state, and 22 states still with no e-waste laws on the books, the electronics recycling process can be expensive, and in some cases less than efficient.
Even state lawmakers decry the impracticality of manufacturer-led state programs, where manufacturers often do just enough to meet program targets without fully addressing the increasing need to keep electronics out of landfills and trash bins.
Current Federal Laws Falling Short
The lack of federal e-waste law may also negatively impact those at the heart of the need for sustainable e-waste regulation – electronics recyclers. When states shift to manufacturer-based programs, recyclers lose contracts with municipalities and business from consumers and there is often very little recyclers can do when manufacturers shift policies or protocol simply to meet state targets.
Still recyclers manage to partner well with manufacturers and retailers who have decided to answer the serious demand for a more extensive, nation-wide e-waste recycling system. Currently, Best Buy and Stapes are two of the largest retailers with an extensive e-waste collection program.
The EPA is also doing its part through policy initiatives and programs such as itsSustainable Materials Management Program which rewards manufactures for top performance in e-waste recycling and its Universal Waste Program which provides important management standards and promotes collection and recycling of hazardous wastes.
Yet, the e-waste crisis looms. Currently, the U.S. and China contribute most to the growing tide of electronics discarded every year worldwide. Demand for newer, more efficient versions of cell phones, tablets, laptops and other electronics stretches wide across a number of markets around the globe and this has top officials, governments and researchers on the lookout for better legislative solutions than those currently in place.
On the E-waste Legislation Horizon
New state e-waste legislation is coming to pass even as other states consider repealing e-waste laws already in place. Minnesota is the latest state to adopt a new e-waste bill while states like North Carolina and New York are eyeing ways to start over or at least revamp existing producer responsibility laws.
It's also important to note the EPA has proposed and finalized two important rules concerning electronic waste disposal in the last decade:
1. The Discarded Mercury-Containing Equipment Final Rule – This rule amended the existing RCRA to add mercury-containing devices to its universal list of hazardous wastes. Also on the list are batteries, pesticides and mercury lamps.
2. The Cathode Ray Tubes Final Rule – This rule makes it easier to recycle and reuse certain CRTs and glass from CRTs by excluding them from the definition of "solid waste" in the RCRA.
For more information about state and federal legislation concerning e-waste and e-waste recycling, read a full article on the topic published by the Warton School, University of Pennsylvania Knowledge@Wharton initiative in collaboration with ERI here.