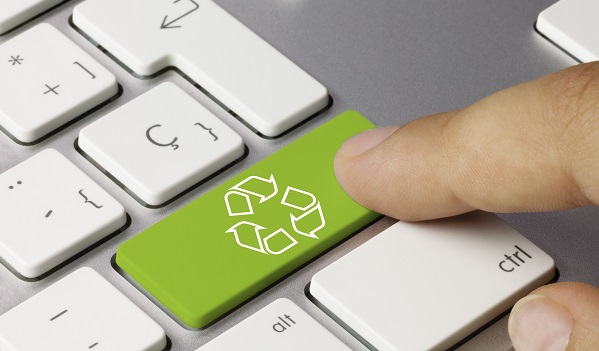 Our obsession with newer and newer technologies is producing electronic waste faster than we can find sustainable places to discard them.With e-waste as the fasting growing waste stream in America, there's no better time than now to get proactive about e-waste – particularly about recycling e-waste.
The e-waste crisis is not just an American issue. Although the United States is makes a huge contribution the growing e-waste mass around the world, it nows stands second behind China as the world's largest producer of e-waste. South Korea and Japan are also top on the list.
The Heart of the E-waste Crisis
At the heart of the crisis is a shocking host of statistics associated with e-waste. Electronics production rates are the most intriguing. It's estimated that billions of devices are being produced every year around the globe, and the United Nations predicts there could be as much as 49.8 million tons of e-waste generated worldwide by 2018. Consumers are also discarding old devices in favor of new ones at interesting rates – about once every two years for mobile devices.
Another touch point concerns the end-point destination for devices once discarded. These destinations boil down to several places, each with their own set of perks and drawbacks.
Storage – It's hard to know exactly how many devices are stored rather than dumped, donated, recycled or exported, but we do know that the practice of accumulating old devices is a habit among many Americans – whether due to a lack of awareness about discard options or other obstacles.
Sent for Recycling – It's estimated that less than 12.5% of America's e-waste is recycled. To counter these low numbers, both the EPA and the federal government are working to increase awareness among consumers and placing more responsibility on electronics manufacturers.
Illegally Dumped – A number of electronics are illegally dumped, and the EPA has the enforcement authority to come down hard on perpetrators. The result is often hefty fines for companies that refuse to comply with federal guidelines concerning the threat of hazardous materials to public health and the environment.
Donated – A number of non-profits and schools can take in end-of-life electronics for repair and re-use in computer literacy and coding programs – an excellent way to give back to the community and to reduce the amount of e-waste in the waste stream.
Traded/Sent Back to Manufacturer – Nearly all electronics manufactures have some sort of take-back program for small and large devices alike. These programs are mandated in states with so-called 'producer responsibility' legislation on the books. It's wise to check your device's instruction manual for free-of-charge return to the original manufacturer for responsible recycling.
Exported – Much to the chagrin of e-waste activists, a large number of electronics devices continue to be exported to developing countries. Sticking with a certified recycler is often the best way to ensure that your device does not end up in an impoverished, environmentally hazardous region of Africa or China rather than recycled.
Getting Proactive About E-waste
Clearly the current state of e-waste buildup now and in the years to come is in a state of emergency. Consumers and businesses alike may be searching for ways to get proactive about reducing e-waste. Here are a few ways to get started.
1. Locate a responsible recycler.
If you're serious about reducing e-waste, the first thing to do is to locate a responsible recycler. Not all recyclers are alike. The major difference to watch for is the level of certification the recycler has acquired. In particular, the eStewards certification ensures that a recycler is committed to domestic recycling only – no shipments overseas for cheaper prices and, ultimately, even greater risks to the environment.
2. Host or sponsor an e-waste collection event.
E-waste collection events are on the rise as more and more Americans realize the extent of the e-waste crisis. Hosting or sponsoring an e-waste collection event may involve partnering with local civic groups or municipalities for effective coordination. These events collect designated electronics from businesses and households for shipment to certified recyclers.
3. Advocate for comprehensive federal or state e-waste legislation.
Although the EPA is actively involved in curbing the amount of e-waste hitting the waste stream, there still is no comprehensive federal law regulating or mandating e-waste recycling. Writing to you Congressman, Senator or state government leaders regarding the issue could provide the influence needed to bring us closer to viable e-waste recycling solution.
4. Don't dump your e-waste.
As the EPA advises, dumping your e-waste is both harmful to the environment in in most states it's illegal. Taking the time to find the proper method for disposing electronics in your area ensures that your e-waste finds an endpoint that does not pose a threat to the environment or to the health and wellbeing of local citizens.
5. Do donate, recycle or send your e-waste back to the manufacturer.
There are a plethora of reliable and helpful ways to properly dispose your e-waste. Donating and recycling are the two most common ways to keep electronics out of the waste stream. Googling local non-profits in your area such as Goodwill and other civic groups can help locate the best drop-off location. It's also helpful to keep an eye out for community e-waste collection events.
A host of retailers and manufacturers run e-waste collection of take back programs. Retailers like Staples and Best Buy are equipped to take in small electronics like mobile phones, tablets and laptops. Manufacturers such as Dell, Apple and Hewlett Packard often tie-in promotions for trade-in electronics and for customers in search of affordable upgrades.
It's Time
If you have yet to get proactive about properly discarding your e-waste, it's time. Like never before, the world is full of a growing tide of electronics devices and beginning to split it seams. Progress begins with identifying sustainable ways to ensure these devices stay out of the waste stream and find their way to responsible and certified recyclers.