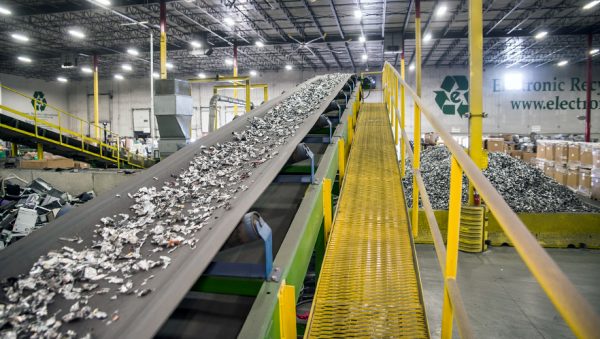 Electronics recycling is a complex issue. In many states, federal agencies and companies that store private information on computers must follow the Federal Trade Commission's Disposal Rules to protect against theft or unauthorized use. Some states mandate the recycling of outdated electronics, while others do not. Rising costs of general recycling have some areas abandoning or changing their recycling policies.
 Keeping up the current laws and the changes that take place can seem like a full-time job. When your business or agency is busy, you may not have the manpower or time to ensure you're disposing of outdated electronics correctly. You don't want to risk the fines and penalties. With a consultative e-waste partner, you protect your business or agency and your clients or customers.
What Does a Consultative E-Waste Partner Do?
 When you hire an e-waste consultancy, you have someone to guide you in terms of the best practices and methods for e-waste disposal. That consultant looks at your company's equipment, the information you store, and helps you come up with the best practices for disposing or replacing outdated electronics. They help with entire data center decommissioning projects and with a move from one office to another.
 Look for an e-waste company that can help you with critical components of electronics disposal or refurbishing. At ERI Direct, the company offers several services including:
 Data Center Decommissioning
Data Destruction

Electronics Recycling

IT and Electronics Asset Disposition

Logistics

Recycling Kits (Mail Back Program)

Remarketing

Specialty Programs
 Mix and match services to fit your needs. If there is still value to your electronics, you can have the data destroyed before the item is refurbished and prepared for resale. For electronics that are outdated and have no value remaining, there data destruction, shredding, and recycling are important steps. Through all of this, a consultative e-waste partner will also ensure you're following your state's laws and federal regulations and getting your projects done on time and on budget.
State Laws Vary
 State laws regarding the disposal of customer records do vary. In California, companies are required to erase, shred, or "otherwise modify" personal information that makes it impossible to decipher or read. Similar laws are on the books in every state but Virginia.
 In addition to state laws, the FTC Disposal Rule requires both small and large businesses who handle consumer reports to properly dispose of this information to prevent theft and improper access. This includes landlords, banks, car dealers, debt collectors, government agencies, insurance companies, and many others. Anyone with access to a consumer's private and financial information is bound by this rule.
 Papers must be burned, pulverized or shredded. Electronic files must be properly destroyed and erased. If they hire an outside contractor to do this for them, they must be cautious in who they hire. They need to make sure the e-waste company has the right certifications and follows state and federal laws. It's the business's responsibility to ensure the electronics disposal company complies with these rules.
How Do You Know You've Chosen the Right E-Waste Partner?
 Because the FTC laws require you to be proactive, you need to start by checking certifications. You shouldn't struggle to find this information. ERI Direct places copies of every certificate they hold right online for you to view. ERI's certificates include:
 AAA NAID Certified (National Association for Information Destruction)
eSteward (Standard for Responsible Recycling and Reuse of Electronic Equipment)

ISO 9001 (Qualify Management System)

ISO 14001 (Environmental Management System)

OSHAS 18001 (Occupational Health and Safety Management System)

R2 (Sustainable Electronics Recycling International's Responsible Recycling Standard for Electronics Recyclers)
 In addition, ERI Direct is a partner in Homeland Security's Stop*Think*Connect public awareness campaign and is a Microsoft Registered Refurbisher.
 Find out how data destruction and recycling are tracked. If a company keeps you in the dark for days, it's not a good partnership. ERI is happy to come to your office to destroy the data before it leaves the building. While your electronics are transported from your office to the ERI facility, you have real-time tracking through Optech™ that shows you exactly where your electronics are and what step of the recycling process is occurring. Watch your electronics get shredded from your deck thanks to ERI's video camera systems. Nothing is shipped overseas for processing. It's all done in one of ERI's eight U.S. locations.
 Talk to ERI Direct about your company's e-waste policies and goals. We're happy to come up with specialty programs, such as employee buyback programs, as part of your company's e-cycling needs. Our e-waste consultancy services ensure you have the services you need and that fit your budget. Call 1-800-ERI-DIRECT to learn more.