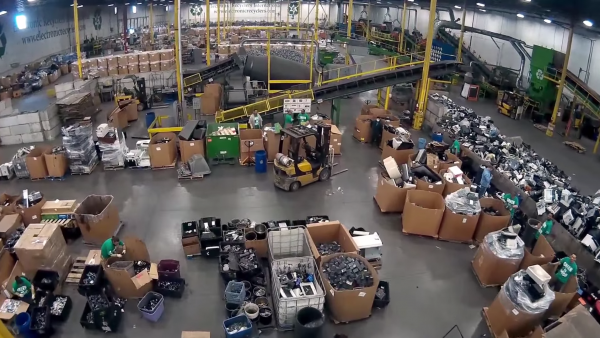 Every corporation needs a plan of action for recycling outdated electronics. Not only is it required in many states, but it's also the only way to protect your company and your clientele from the possibility of data theft. If you're not taking proper steps to recycle your old printers, computers, cellphones, and storage devices, you risk being fined by the government for improper disposal or sued if thieves got hold of private information. Do you want to face those risks?
 Stop and think about the financial loss you face if you don't have a corporate electronics recycling plan. In 2017, a New York company was fined $225,000 for improper handling of e-waste. A Washington company had to pay more than $1 million in fines and also faced jail time. Companies can also be held liable when sensitive data is stolen. A U.S. researcher purchased old computers that companies put up for resale. He found more than 360,000 documents and files that contained information like credit card numbers, driver's license or passport numbers, or SSNs. A comprehensive plan for recycling your corporation's electronics is essential.
Know What You Can Recycle
 E-waste recycling covers almost everything you have for office equipment and breakroom or cafeteria equipment. You can recycle laptops, desktops, phones, fax machines, computer monitors, TVs, external hard drives, USB sticks, appliances (small and large), scanners, modems, routers, and much more. There's very little that cannot be recycled when it comes to electronics. If you're not sure, you need to partner with an e-recycling company that is available to answer your questions.
The Basic Criteria in an Electronics Recycling Plan
 Think about the goals of e-recycling. You are doing your part to keep toxic materials like cadmium, lead, and mercury from the landfills where it can get into the soil and groundwater. You're also protecting your company and clients by arranging to have confidential information destroyed before any of your equipment is refurbished. To ensure this happens, you need to create an e-recycling plan that covers these goals.
 Allows you to see where your electronics are after leaving your company and making it to the ITAD and data destruction facility.
Destroys all personal and confidential data belonging to your company, employees, or clients.

Offers the best return on equipment or parts that still have value.

Shreds the electronics that have no value left and recycles the different components.
 The first step to creating a corporate e-recycling and data destruction plan is to draft instructions for all employees to follow. Make sure they understand what is not to be thrown out. They cannot throw away a USB stick if it stops working. Old equipment and accessories that have been sitting in storage for years or decades also cannot be thrown away. This includes floppy disks, cassettes and other tapes, etc.
 Make sure there are rules in place for recycling equipment that is broken or damaged vs. equipment that is outdated and being replaced with newer models. That equipment that is just outdated still has value and should be handled differently. You could make back some money having the data destroyed before it's refurbished and resold.
 Post the plan in every office and make sure employees know what to do. If they bring equipment home to work from a home office, they need to follow the same rules when it comes to disposal and keeping information secure.
 Have a plan of action for their disposal. You might want to pick one department, such as IT, where unneeded or broken items are handled. That department will have the contact information needed for sending e-waste. You might set up an electronics mail-back program for that department to use when sending unnecessary electronics. You might prefer to have them arrange for data destruction to take place on your site. With ERI Direct, both of those options are possible. We also offer full data center decommissioning if you need it.
 Know what your state's laws are when it comes to electronics recycling. Most states have laws in place, but some still do not have many rules. Even if your state doesn't, you are bound by consumer protection laws set by the federal government. It's always best to arrange ITAD services that focus on the protection of the environment, the security of your data, and information privacy.
Choosing the Right ITAD and Electronics Recycling Company
 An e-recycling firm needs to have integrity. A company may say they work hard to protect the environment, but some have ended up in court for making false promises. Companies that agree to surprise audits to prove they mean it are always the better choice.
 You do not want your electronics being shipped to another country where they may be resold without your knowledge. Make sure you work with a facility that is R2 and e-Stewards certified. With these certifications in place, you know your electronics are being processed in ways that protect the environment and your business. You should also look for companies that have NAID certification that ensure high levels of security when electronics are processed and recycled.
 ERI Direct holds all three of those certifications. Plus, we hold ISO and OSHAS certifications and are a Microsoft Registered Refurbisher. We take security, commitment to the environment, and satisfaction of our clients seriously. Give us a call at 1-800-ERI-DIRECT to speak to a specialist about your e-recycling needs.