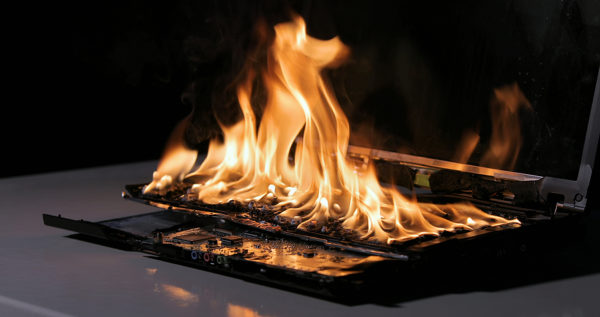 Lithium ion batteries are in most every electronic device you own. A rechargeable game controller, smartphone, electric vehicle, tablets, laptops, and smartwatches all have them. They're just as common in a workplace with employees carrying around phones, laptops, pagers, tablets, etc.
 Despite the safety of these batteries, they can become hazardous in certain situations. If they've been damaged or have some kind of defect, they can cause devastating fires. The U.S. Consumer Product Safety Commission reported that there were more than 25,000 issues involving fires or overheating stemming from lithium ion batteries in a five-year period. Here are five of the biggest fires to date.
Royal Waste Services in Jamaica, New York
 One of the biggest fires ever was a five-alarm fire in Jamaica, New York. A lithium-ion battery sparked a blaze that brought much of the Long Island Rail Road system to a halt for ten hours. Clouds of black smoke overtook the region as hundreds of firefighters battled the fire.
 What caused the plant's fire? It turned out that a single lithium-ion battery sparked trash, piles of paper, and cardboard recycling, and wind gusts of up to 37 mph added to the problems firefighters faced. It took close to a full day to extinguish the fire. Power lines that were affected by the fire had to be replaced.
Superior Battery in Morris, Illinois
 An abandoned paper mill in Morris, Illinois, caught fire in 2021, leading to the evacuation of more than 1,000 homes. The owner of the building was storing lithium batteries he planned to use to start a solar power company called Superior Battery. It's believed that water leaking in from the roof, sparked a battery to ignite, and things steamrolled from there.
 More than 200,000 lithium batteries were in the building, creating a chain reaction of battery explosions that added to the initial battery fire. City officials and firefighters were unaware lithium ion batteries were stored in the building, so they first battled the fire with water, which is dangerous and made things worse.
 Because water is ineffective for putting out large-scale lithium ion battery fires, over 1,000 pounds of a dry chemical known as Purple-K was used, but that didn't help extinguish the growing fire. Instead, dry cement was pumped in to cover the burning batteries to a depth of three feet.
 Governor Pritzker was forced to declare a disaster due to this fire. The building's owner hadn't yet notified the city of the batteries in the building, nor had he filed business permits. Plus, he didn't have insurance putting the responsibility of the cost of putting out the fire and evacuations on the taxpayers' shoulders. In August, the Illinois Attorney General's Office filed a lawsuit against Superior Battery hoping to get some money to lower the burden on taxpayers.
Felicity Ace Burns in the Atlantic Ocean
 In February 2022, a ship sailing from Germany to the USA caught fire. On that ship were around  4,000 vehicles from Audi, Bentley, Lamborghini, Porsche, and Volkswagen. While the cause of the fire is yet unknown, many of the cars onboard were EVs, and their lithium-ion batteries posed a threat for reignition. All crew escaped the ship and reported that the smoke was coming from burning vehicles, raising questions if an EV car's battery sparked the blaze.
 Crews fought the blaze for weeks before the ship sank off the coast of the Portuguese Azores in what is essentially no man's land. Despite the ship's final resting spot sitting outside of Portugal's jurisdiction, the Portuguese military has been monitoring the ocean for pollution as the thousands of vehicles had more than 4,000 tons of fuel and oil combined.
Shoreway Environmental Center in San Carlos, California
 A four-alarm fire broke out at South Bayside Waste Management Authority's Shoreway Environmental Center back in 2016. It took 79 firefighters several hours to put the fire out. A few days later, a second fire occurred. No one was injured in either blaze, but the facility did experience water and smoke damage that took three months to correct and kept the facility from being able to operate as normal.
 During that time, some of the workers had to be laid off for a few months . Insurance rates for the facility drastically increased, driving up prices for area residents. One thing the facility's general manager made clear after is that area residents need to be very careful when it comes to recycling. Batteries cannot go into trash or recycling bins. When consumers do this, a small amount of damage is all it takes for a lithium battery to explode and start a fire.
Vistra Energy's Facility in Moss Landing, California
 Vistra Energy is the world's largest battery storage facility for storing solar and wind energy. The risk of combustion from overheating is higher, especially if the batteries are damaged in some way. This is exactly what hapapened at Vistra Energy. While systems prevented the battery storage facility from going up in flames, the fact that even a few packs melted is concerning.
 Back in September, the 300 megawatt facility shut down when several overheating battery packs melted and triggered the fire suppression system to kick in. About 7,000 batteries were soaked by the system and damaged in the process. The company shut down the 300 megawatt facility, but a smaller 100 megawatt facility was still in operation at the site.
 On February 13th, that smaller facility experienced a second incident. Again, it's believed that water hoses leaked and damaged some of the facility's battery packs. It was especially concerning as the company was about to reopen the 300 megawatt facility. Those plans have since been scrapped until the facility can figure out how to prevent additional meltdowns if there are hose leaks. While the fire suppression system worked effectively both times, there are fears about what could happen if the systems failed and hundreds of these batteries exploded.
Consumers need to do their part to prevent lithium ion battery fires. Proper recycling of unused electronics and lithium ion batteries is essential. They cannot be tossed in the trash or a regular recycling bin. Lithium ion batteries must be separated from combustible recyclables and materials like cardboard, paper, and wood scraps.
 How do you ensure you're properly recycling your electronics? Your lithium ion batteries may have a recycling symbol, but that doesn't mean they're recycled the same way. Do not place them in your blue recycling bin. They cannot go in with regular recyclables. If they get damaged, everything in a truck's load can catch fire. Set them aside in a covered container after taping the ends. This gives you time to find out how to recycle them.
 Check your district's recycling rules and facility policies to learn how you should recycle lithium ion batteries. You might need to tape the ends with electrical tape and bring them to a retailer that participates in Call2Recycle, a non-profit battery recycling program.
 Businesses, property managers, and anyone interested in recycling large quantities of batteries can acquire secure battery recycling containers from ERI. These postage-paid containers travel to one of ERI's battery recycling facilities where they are safely broken down and recycled in the U.S. We do not ship anything overseas. If you have devices containing personal information, talk to our experts about data destruction and ITAD services.