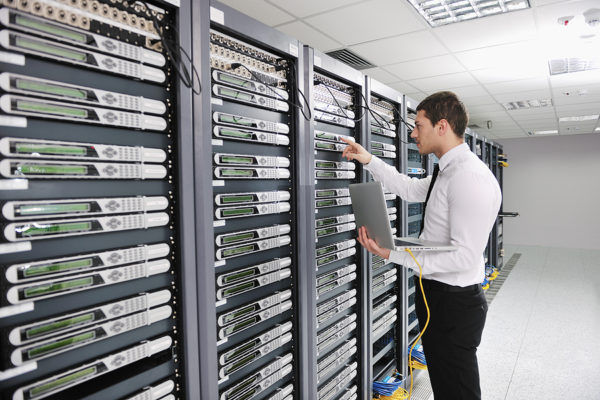 Experts agree that most data centers should upgrade their services every three to five years. Even if a system seems to be operating well, manufacturer warranties tend to end after three years, though some will go as high as five.
More importantly, IDC and Dell found that server performance drops by 14% every year. By the end of year five, your server's performance is down by a whopping 60%. Plus, routine upgrades can save you up to 148% in server administration costs and 40% in application management.
Are there other reasons to decommission a data center? Yes, there are.
Leaving untouched equipment in a storage room or even storage locker is quick and easy, but it can be a security nightmare

If you forget and those items are auctioned or disposed of without proper protocol first taking place, you can be in a lot of trouble.

Any loss of personal information or even suspicion of it can destroy the public's trust in your company.
Hiring a professional for your data center decommissioning can help you regain some of the value in your electronics. While it may cost money to hire a professional, you'll make money recovering the value of some items and you avoid costly fines.
When it's time to upgrade your servers and/or decommission a data center, how is it completed? How do you make sure you're doing this correctly, without losing valuable information or, worse, doing the job improperly? You don't want to be fined millions of dollars, as happened to Morgan Stanley for failure to protect personal identifying information (PII).
Proper Steps in a Data Center Decommissioning
It's time to decommission old equipment in your data center. What steps cannot be ignored?
#1 – Keep Clear, Complete Records
Before you do anything, you need to engage in IT asset management protocol. Every item you are removing from service has to be inventoried. The more comprehensive you are, the better. Consider gathering a list of all of this information:
The make and model and any information that helps identify and describe it
NetBios and DNS names
IP information
The server's role within the company
How it connected to the network and where it was connected
What were the share permissions and who maintained and accessed each server
What software was on it, including security software
Vendor information
Storage information
In addition, it's also helpful to lay out a blueprint of the data center's infrastructure.
#2 – Discuss Plans, Budgets, and Document Stakeholders in the Decommissioning
Who will be involved in the decommissioning? Anyone who is involved in the work or planning must be listed and involved in discussions. Make sure there is a project manager assigned to make sure all rules are followed and to keep stakeholders updated.
It's important to set a clear budget during these meetings. A lot of companies don't realize how much it will cost and end up exceeding the budget. Don't be conservative when setting a budget. Plan for all of the what-ifs.
#3 – Set a Timetable
You have the budget and key players planned out. It's time to plot exactly how long it will take to complete the project. Factor every small detail, even if you think it's trivial. The more detail you put into this timetable, the higher the chances that you'll complete the job on time, which keeps it within budget.
Once you have the timetable created, you can calculate how much total time is needed. This allows you to determine the best time of day to start the decommissioning.
#4 – Create a Playbook
Build a playbook of who is doing what and share that with the team. Make sure everyone knows their role and what they'll need to do the job.
#5 – Start the Decommissioning
On the day of, you want to start the data center decommissioning. Make sure everyone is there and knows where they're starting. Before anything else, back up all information as a precaution. Once that is complete and verified that it went well, you can start disconnecting the equipment. Compare it against the original inventory of everything that would be going.
After it's been checked off, it's carefully packaged with protective foam and boxed or crated. Those boxes and crates go onto pallets.
#6 – Finish Palletizing and Ship to an ITAD Specialist
Once items are all cleared, boxed, and on pallets, it's time to prepare them for transportation. Pallets are wrapped and loaded onto a van or trailer to go to the ITAD company of your choice where they'll go for data destruction prior to shredding and recycling or refurbishing.
Why send them to an ITAD specialist over just bringing them to your local recycling center? You have no idea what will happen at your local recycling center. They may sit in a building for months or get shipped to another country. It's not worth the risk.
Similar Measures Exist If You're Upgrading Servers
What if you're not removing all of your equipment, but you're just updating your servers? The process is similar. You will back up all information, decommission the old servers, install the new ones, and make sure the data is in place from your backups.
Those old servers need to be inventoried in the same way. They'll get packaged, crated, and shipped to an ITAD for data destruction and e-recycling. Or, you might opt to have on-site data sanitization performed at your place of business. Either way, you will have documentation that you followed legal requirements for keeping PII secure at all times.
How Do You Choose an ITAD Provider?
Save yourself a lot of hassle and choose a specialist in data center decommissioning that provides on-site data destruction. Before items even leave your building, the data is destroyed. You'll be provided documentation to prove it.
ERI completes data center decommissioning services following five criteria.
Data is destroyed.
Information is kept private.
All recycling procedures focus on protecting the environment.
You'll get the maximum resale value for any usable items.
You get documentation and can track packages until they're in the facility and recycled.
When you hire our specialists, we complete the full inventory and determine the value of any items suitable for remarketing/refurbishing. We handle data sanitization at one of our facilities or your place of business. If you have any leased equipment, we return it for you. Items that are decommissioned are packaged and transported using secure transport vehicles. You're able to track the shipment the entire time, so you never have to question where it is.
ERI holds several certifications including e-Stewards, ISO 9001, NAID, and R2. What this means is that we protect the private information found on your devices, and your workers' safety. Plus, nothing is sent overseas, which protects the environment.
Fill out our online contact form to learn more about data center decommissioning. We helped one Fortune 500 company recover 33% of the cost of our services through remarketing services. We might be able to do even better for your company. With nine recycling facilities scattered around the U.S., we're close by.