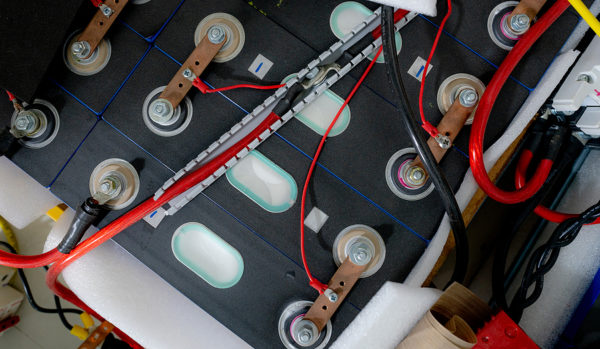 Many items in your home use lithium-ion batteries. From your cell phone and tablet to your laptop and cordless power tools, these rechargeable batteries are everywhere. But, their popularity comes with risks. A damaged lithium-ion battery can spark fires that cause tremendous damage. They never go into the trash when they no longer hold a charge.
Government regulations help make it easier than ever to recycle these batteries. Learn more about the laws in the U.S. and many states regarding lithium-ion battery recycling.
The U.S.  Department of Energy's $192 Million in Advance Battery Recycling Technology
On June 7, 2023, the Biden-Harris administration earmarked $192 million for advanced battery research and development. In addition to the Lithium-Ion Battery Recycling Prize, the research and development consortium is designed to help support the production and recycling of lithium batteries for consumer goods and electric vehicles. 
A large portion of the funds is going to be used towards developing and marketing battery recycling programs that are easy for consumers to use. It's also designed to help make recycling profitable to ensure the demand is high.
What Are the Current Federal and State Regulations on Battery Recycling?
The EPA announced new efforts to boost the recycling of lithium batteries and end-of-life solar panels. The goal is to get both classified as universal waste and create standards for how they're handled when they're no longer viable.
Lithium batteries are considered hazardous materials, which means that the Department of Transportation has Hazardous Materials Regulations in place for their transportation. Part of this covers the requirement to recycle and dispose of them in ways that do not put drivers of vehicles like garbage trucks at risk of a fire. 
The U.S. Mercury-Containing and Rechargeable Battery Act prevents the disposal of many rechargeable batteries. The law requires manufacturers to label when a battery is recyclable and make it easy for consumers to recycle them.
If a garbage truck driver doesn't know there are batteries in the trash and crushes the bags that were just added to the truck, it can cause a fire. It results in trucks having to dump their loads on the street and call the fire department for assistance. It's messy, frustrating, and harmful to the environment.
Several states and the District of Columbia have their own laws regarding battery recycling. Some states require producers/manufacturers to fund or at least offer battery recycling programs. Those states are:
California: California's Electronic Waste Recycling Act of 2003 was expanded under California SB 1215. Starting January 1, 2026, consumers will pay a small surcharge to pay for recycling costs on "battery-embedded products."

Florida: Disposal of products with non-removal batteries, Ni-Cd, and SSLA/Pb batteries must be recycled and manufacturers and distributors pay the cost.

Iowa: Ni-Cd and SSLA/Pb batteries are not legally sold in Iowa unless a recycling program is set up by the manufacturer. Items must have a phone number to call for recycling information.

Maine: Manufacturers of rechargeable batteries have to set up a plan for the collection, transportation, and processing of those batteries.

Maryland: The Rechargeable Battery Management Law requires manufacturers to have a recycling and management program in place for non-removable batteries, Ni-Cd, and SSLA/Pb. 

Minnesota: Minnesota enacted laws covering the recycling of any battery that can be recharged. Disposal of those batteries in a landfill is illegal. Retailers cannot sell these batteries if a recycling plan hasn't been set up by the reseller or manufacturer.

New Jersey: Ni-Cd and SSLA-Pb batteries are illegal to dispose of in a landfill. Other batteries are not covered yet, but it's still important to recycle them following U.S. regulations like the Rechargeable Battery Act.

New York: In New York, any retailer that sells rechargeable batteries must also offer on-site recycling programs and post signs to alert consumers to the available recycling programs. The exclusions from this law are batteries weighing more than 25 pounds and EV batteries.

Vermont: Vermont laws require Ni-Cd and SSLA/Pb batteries to be recycled. In 2014, Governor Shumlin also signed the Single-Use Battery Law requiring recycling of single-use batteries.

Washington: Washington SB-5144 requires the manufacturers of batteries and products containing rechargeable batteries to join a Battery Stewardship Organization. By 2029, medium-format battery producers must meet the rules outlined in the battery disposal ban.

Washington, D.C.: Washington, D.C. has the Zero Waste Omnibus Amendment Act of 2020 that requires manufacturers of rechargeable batteries and battery-containing products to be part of a Battery Stewardship Organization.
Other states have state-wide regulations on battery recycling. Typically, these states require retailers to accept batteries for recycling. Retailers must send those batteries to a battery recycling facility.
Arkansas

Connecticut

Hawaii

Indiana

Kentucky

Louisiana

Mississippi

New Hampshire

New Mexico

North Carolina

North Dakota

Pennsylvania

South Carolina

South Dakota

Texas

Utah

Virginia

West Virginia

Wisconsin

Wyoming
The other states follow U.S. federal laws on hazardous waste management. No matter where you are, you need to recycle lithium-ion batteries. It's getting very easy to do.
The Benefits of Recycling Are Clear
Princeton's research on lithium-ion battery recycling makes the benefits clear. Approximately 5% of all lithium-ion batteries are recycled properly. There's a lot of room for improvement.
The cathode materials in a battery include cobalt, lithium, manganese, nickel, etc. If you keep mining those items, the earth's stores will diminish. Recovering them for reuse is important, but current methods use extremely high temperatures, water, and chemicals. They came up with a way to reduce water consumption by as much as 70% and emissions and energy use by 80%.
Recycling batteries properly also prevents fires. In 2022, 390 fires at waste and recycling facilities were reported. Those fires caused an alleged two deaths and 56 injuries. All of this is reduced with proper recycling measures.
How Should You Dispose of Old Electronics and Rechargeable Batteries?
Don't throw electronics and batteries into the trash. Save batteries in a container and set electronics aside. You can bring them to your local facility that offers e-waste recycling. If you're told they don't accept batteries and electronics, you still have other options.
Best Buy and Staples are two of many retailers that accept a few used electronics at their stores. They'll collect them for their partner for proper recycling. Best Buy also offers a service for just under $200 where you pay the flat fee and a driver picks up two large appliances, such as TVs or old stoves, and unlimited smaller electronics. It's an easy way to recycle all of your computers, tablets, monitors, external hard drives, etc. that have been sitting in closets for years. 
Purchase a box from ERI and fill it with your rechargeable devices. ERI transports it securely to the nearest ERI facility. The items are evaluated to see if they have any value or need to be shredded and recycled. If there is value, the data is destroyed, the item is refurbished, and it ends up with someone who needs it.
ERI is an R2, NAID, and e-Stewards certified ITAD provider. We do our part to ensure lithium-ion batteries are recycled safely and properly, using methods and protocols that don't cause harm to the environment. Reach us online or by phone if you have questions about ERI battery recycling.