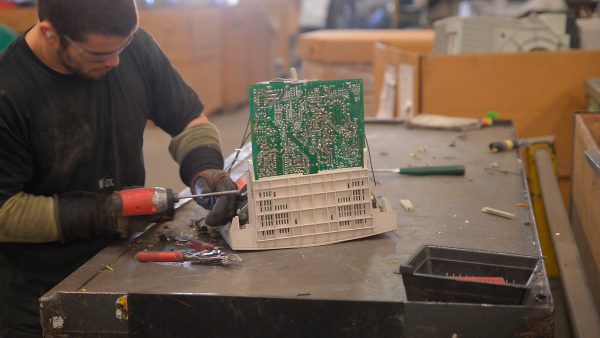 In light of recent investigative news reports unveiling illegal and unethical shipments of e-waste overseas by a number of companies that claim to recycle electronics, the nation's leading electronics recycler continues to recycle electronics the right way – as it has been doing now for 14 years.
ERI, the nation's leading recycler of electronics and IT asset disposition (ITAD) service organization, maintains eight state-of-the-art e-waste recycling centers, including its state-of-the-art facility in Fresno, California.
ERI has been providing comprehensive electronic waste recycling services for California businesses and individuals since 2002 and was the first recycler in the state to be R2 and BAN certified. ERI was also the first recycler to receive approval by the state of California to utilize a technology system for the recycling of glass from old televisions, computer monitors and cathode ray tubes (CRTs). Glass has long been a challenge for recyclers of electronics, but ERI's innovative technology, utilizing a proprietary cleaning system, solves the problem, enabling ERI to clean and process glass on site in a safe and environmentally responsible way.
ERI is also the only certified e-steward in California that maintains its own glass cleaning, comprehensive shredding and data destruction technology in-house.
ERI's California location is located at 3243 South East Avenue, Building 108, in Fresno and maintains public e-waste receiving hours Monday through Friday from 7 a.m. – 3 p.m. Anyone can easily get information by contacting 1-800-ERI-DIRECT (374-3473).
Earlier this year, as part of its ongoing e-Trash Transparency Project, which installed and deployed more than 200 electronic tracking devices in old computer printers and monitors and then tracked them across the globe, the Basel Action Network (BAN) announced that the tracker data it received revealed a number of recyclers implicated in exporting toxic, non-functional electronic scrap equipment to locations in China in likely violation of Chinese law, recycling certification programs, and state and county policies.
The first report in BAN's e-Trash Transparency Project, entitled Disconnect, was released on May 9th together with PBS's NewsHour documentary, "The Circuit." In the PBS documentary, ERI's John Shegerian was featured as an industry leader and expert. ERI's innovative technology, dual certified process and green facilities continue to set a high bar of ethics and responsibility while providing Washington residents and businesses with peace of mind as they themselves try to do the right thing by recycling their electronics.
"The need to get rid of unwanted or outdated consumer electronics is a constant," said John Shegerian, Chairman and CEO of ERI. "So the concurrent needs for environmental responsibility and certified data destruction are more important than ever. Our flagship location in Fresno has set industry standards on a national and global level, and we are proud to have been helping so many Californian people and businesses do the right thing by recycling their e-waste and keeping toxic electronics out of landfills."
Shegerian also noted that ERI currently provides the only dually certified nationwide solution offering 100 percent guaranteed data destruction for consumer electronics devices, e-waste, and hardware.