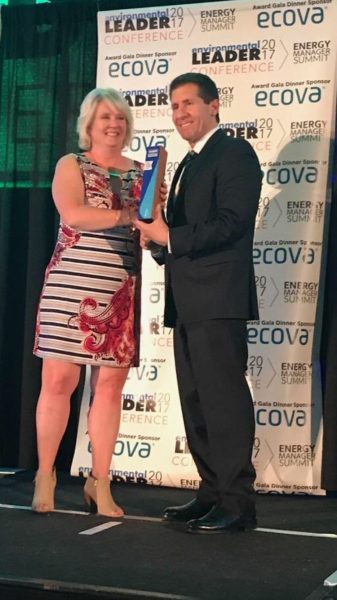 ERI, the nation's leading recycler of electronic waste and the world's largest cybersecurity-focused hardware destruction company, yesterday received the "Top Project of the Year" honor at the annual Environmental Leader Product & Project Awards. The award was presented to ERI for the groundbreaking ecycleNYC (www.nyc.gov/ecycle) project, a collaboration between ERI and the New York City Department of Sanitation (DSNY).
The program has seen exponential growth since its launch. Currently 2.3 million New York City residents have access to the program, which has collected and recycled more than 11 million pounds of e-waste to date. The program is free to the City of New York and residents and is fully supported by electronics manufacturers.
ERI and DSNY were recognized for the award because ecycleNYC was considered by Environmental Leader's assembled panel of judges to be an exemplary project.
One judge said of ecycleNYC: "This is a great initiative that has shown clear benefits to the residents of the city and the environment. With this being funded by electronics manufacturers and no cost to residents or the tax base, this is a slam dunk."
Another judge referred to the program as, "…a smart approach to collecting e-waste, solving an important set of issues for NYC. The project is very successful and has the opportunity to be scaled, especially to metro locations. The impact they had in a short time period was great. It also has an incredible opportunity for expansion."
The Environmental Leader Product & Project Awards is a program recognizing excellence in products and services that provide companies with energy and environmental benefits, or in projects implemented by companies that improved environmental or energy management and increased the bottom line.
Scores were determined by a panel of independent judges headed by Peter Bussey of LNS Research and also including judges from Advanced Micro Devices, ATT, Best Buy, C&A, Caesars, Cox Enterprises, Fetzer Vineyards, General Motors, Harbec, Kellogg, LNS Research, Marriott, MillerCoors, Newell Brands, Novartis, Oldcastle Inc., Panasonic, Parker Hannifin, Paul Leavoy/Consultant, Safeway, Sears Holdings Corporation, Sierra Nevada Brewing Company, Strategic Sustainable Consulting, Tyco Global Products, Wellborn Cabinet, and Zee Company/Member of the Vincit Group.
With rapid advancements and a continuous rate of change in the field, sustainability and energy professionals have a notoriously difficult time knowing what products to choose to help their companies increase energy, environmental, and sustainability performance. The Environmental Leader Product & Project Awards give companies a solid base of products, vetted by experts, from which to choose, as well as a variety of successful projects to illustrate how sustainability and energy management is helping companies improve.
"With a highly respected (and critical) judging panel and a strict set of judging criteria, entrants faced an extremely high bar for the level of product or project to qualify for an award," said Tim Hermes, publisher of Environmental Leader parent company, Business Sector Media. "Those who entered needed to bring their A-game to get even a sniff of award-nirvana. And they delivered."
"We are humbled to have been singled out for this Environmental Leader Award by such an esteemed panel of judges," said John Shegerian, Chairman and CEO of ERI. "It has been an honor and privilege to have co-created this constructive collaboration and forged a historic and successful partnership with the great city of New York and forward-thinking manufacturers. That we have now recycled more than 11 million pounds of electronic waste from New York City residents for responsible, effective recycling is a huge accomplishment. Plus, the program now serves more than a quarter of the New York City population. It is tremendously rewarding to be able to help so many do the right thing and responsibly recycle their e-waste – the fastest growing waste stream in the world today – and keep millions of pounds of toxic electronics out of landfills!"
* Although we have archived this news article on our website, the original article may no longer exist.