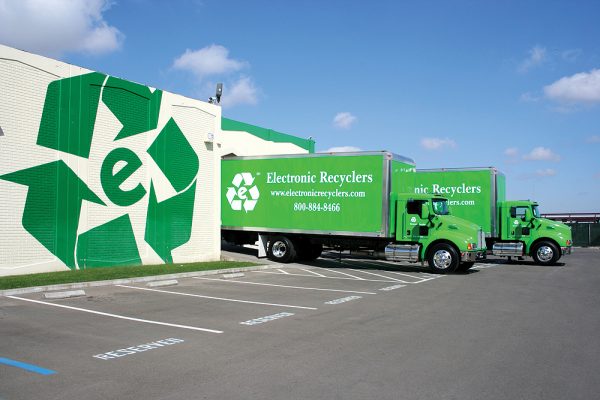 www.nyc.gov/ecycle) program in Staten Island, have now expanded to North Brooklyn. Sanitation Commissioner Kathryn Garcia, Council Member Antonio Reynoso and Minority Leader Steven Matteo were on hand at the presentation to announce the launch of the e-waste curbside collection pilot program for North Brooklyn residents.
ERIlast year in Staten Island, have been so successful, that the concept is being tried in North Brooklyn with other parts of the city to follow over the next three years.
All collected e-waste will be responsibly recycled by ERI, whose Director of OEM, Sustainability and Legislative Affairs David Hirschler also spoke at the event, noting that the curbside pickup expansion into Brooklyn is part of the effort to continue growing ERI's award winning partnership with the City of New York.
"We are honored to be part of this constructive collaboration and this historic and successful partnership with Brooklyn and the great city of New York," said John Shegerian, Executive Chairman of ERI. "The curbside pickup program is yet another advancement and added convenience to a residential program that already regularly provides responsible, effective recycling for millions of New Yorkers' electronic waste. After the success of the curbside pickups on Staten Island, it's exciting to see the program expand into other boroughs. It's great to be able to help so many in our city do the right thing and collect and responsibly recycle their e-waste – the fastest growing waste stream in the world today – and keep toxic electronics out of New York landfills!"
nyc.gov/electronics and make an online reservation for the collection of up to 20 e-waste items covered under the state law. Residents may also call 311 for a reservation. Residents must place all items at the curb the evening before their confirmed collection day. While certified specialists will erase computer hard drives after collection, it is highly recommended residents remove all private information from electronic items before pickup. Collections officially began October 1st.
Residents looking to get rid of e-waste can also consider bringing their items to a DSNY Special Waste Drop Off location, visit a SAFE Disposal event, or buildings with 10 or more apartments can sign up for free collection with ecycleNYC.
Information on these and other options can be found at nyc.gov/electronics.