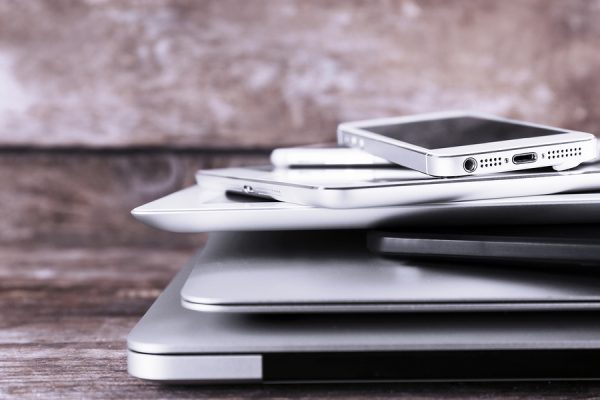 LAS VEGAS–Joining forces with the Consumer Technology Association (CTA) and Samsung Electronics America, Inc., ERI, the nation's leading recycler of electronic waste and the world's largest IT asset disposition (ITAD) and cybersecurity-focused hardware destruction company, has announced a special e-waste collection event taking place on Saturday, January 6th from 9AM to 1PM in Las Vegas, NV. The event will help provide the City of Las Vegas and attendees of next week's CES® 2018 with a convenient way to responsibly recycle unwanted consumer electronics.
Sponsored by the Consumer Technology Association (CTA)™, the owner and organizer of CES, and Samsung, this e-waste recycling event is free to the public and will allow visitors to properly dispose of unwanted electronics in an environmentally responsible way.
The event will take place at the Salvation Army Family Store drop off location on 2035 Yale Street in North Las Vegas, NV. Accepted items include computer equipment, televisions, and mobile devices. For this special manufacturing take-back program, ERI will responsibly and securely recycle all e-waste collected for this event, destroying all data from electronic devices in the process.
"It is an honor to serve as the official recycler for many of the largest companies at CES, truly, the world's premier electronics industry event," said John Shegerian, Co-Founder and Executive Chairman of ERI. "The work we will be doing this weekend to prevent unwanted electronics from ending up in landfills, and partnering with forward-thinking, environmentally concerned organizations like our good friends at Samsung and CTA exemplifies what can be accomplished when great organizations pool their resources for the common good."
"We're committed to educating consumers on how to safely manage electronic waste and are offering free and convenient recycling opportunities such as this one as part of our Samsung Re+ program," said Mark Newton, Head of Environmental, Regulatory Affairs, and Sustainability at Samsung Electronics America. "As one of the world's biggest recyclers of e-waste, we understand the significance of responsible recycling and the positive impact events like these have for our environment."
"CES 2018, the global stage for innovation, will feature more than 3,900 exhibiting companies unveiling technologies that will change our lives for the better," said Walter Alcorn, vice president for environmental affairs and industry sustainability, CTA. "These products are becoming lighter than ever, using fewer materials and requiring less energy. We're proud that Samsung and ERI are here helping consumers recycle their older products through this community recycling event."
About ERI
ERI, the nation's leading recycler of electronic waste and the world's largest ITAD and cybersecurity-focused hardware destruction company, is certified to de-manufacture and recycle every type of electronic waste in an environmentally responsible manner. ERI processes more than 275 million pounds of electronic waste annually at eight locations, serving every zip code in the United States. For more information about e-waste recycling and ERI, call 1-800-ERI-DIRECT or visit https://eridirect.com.
About CTA
As a catalyst to the dynamic technology industry, the Consumer Technology Association (CTA)™ accelerates growth and progress for the fast-paced economy. With leading market research, CTA educates members, and by establishing standards, CTA shapes the industry at large. Learn more at https://www.cta.tech.
About Samsung Electronics America, Inc.
Headquartered in Ridgefield Park, N.J., Samsung Electronics America, Inc. (SEA) is a recognized innovative leader in consumer electronics, mobile devices and enterprise solutions. A wholly owned subsidiary of Samsung Electronics Co., Ltd., SEA is pushing beyond the limits of today's technology and providing consumers and organizations with a portfolio of groundbreaking products in appliances, home entertainment, Internet of Things, mobile computing, smartphones, virtual reality, wireless infrastructure and wearables, in addition to offering leading content and services related to mobile payments, 360-degree VR video, customer support and more. Samsung is a pioneering leader in smartphones and HDTVs in the U.S. and one of America's fastest growing home appliance brands. To discover more about Samsung, please visit www.samsung.com. For the latest Samsung news, please visit news.samsung.com/us and follow us @SamsungNewsUS.