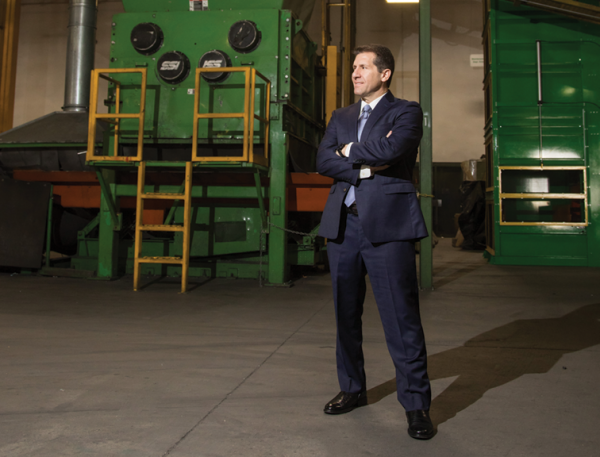 John Shegerian, Co-Founder and Executive Chairman of ERI, the nation's leading fully integrated IT and electronics asset disposition provider and cybersecurity-focused hardware destruction company, was a featured panelist last week at the City and State 2019 Protecting New York Summit at the Museum of Jewish Heritage in New York City.
City & State's Protecting New York Summit offered industry executives, public sector leaders and academics the opportunity to discuss all aspects of New York's security strategy, from securing infrastructure, to cybersecurity and disaster management. The full-day event brought insights and perspectives across industries within New York's public safety and security initiatives and programs, including an opening keynote address by New York City Police Commissioner James O'Neill and a presentation by Franco Cappa, Cyber Security Advisor from the US Department of Homeland Security.
As part of a cross-disciplinary panel titled "Cybersecurity in a Rapidly Changing Tech Environment," Shegerian was joined on stage by Richard T. Jacobs, Assistant Special Agent In-Charge, Cyber Branch, for the FBI; Liat Krawczyk, Vice President for Emerging Tech Initiatives for the New York City Economic Development Corporation; Kenneth Carnes, Chief Information Security Officer of the New York Power Authority; Stu Solomon, Chief of Intelligence Solutions for the Recorded Future; and Daniel Christiansen, Staff Security Specialist – Public Sector for Splunk Inc. Pano Yannakogeorgos, Clinical Associate Professor, NYU School of Professional Studies Center for Global Affairs, served as moderator.
The experts discussed how digital information is increasingly vulnerable to those seeking to do harm and how governments and businesses must keep up with technological developments in order to keep data secure. The ever-changing technological environment, including the development of 5G, artificial intelligence, and other innovations were also discussed.
During the discussion, Shegerian described and shared insights on what types of private and potentially dangerous content can be easily accessed on discarded or even on "secure" devices. He shared an anecdote about a casino that suffered a breach via a smart fish tank. He also explained key concerns relating to the very real threat of hardware hacking.
The expert panelists also discussed next steps in terms of data security in New York and best practices in terms of what companies can do to proactively provide solutions and work together with government to keep data safe.
"It has been rewarding to share what we know and what we've learned with other thought leaders from government agencies and law enforcement at this important and vital summit," said Shegerian. "It is particularly rewarding to discuss the urgent importance of data destruction, protecting the privacy of people and businesses of the great city of New York, my hometown. Proper destruction of private digital data has become a crucially important issue and these conversations at the Protecting New York Summit have been vital."