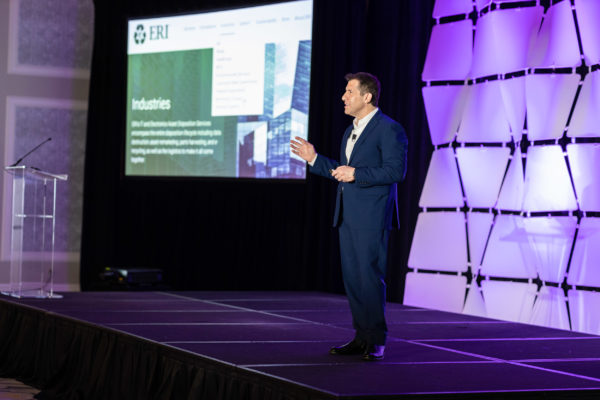 John Shegerian, Chairman and CEO of ERI, the nation's largest fully integrated IT and electronics asset disposition provider and cybersecurity-focused hardware destruction company, delivered the event-opening keynote presentation today at the ITAD Summit 2021 at the Hyatt Regency Huntington Beach in Orange County, California.
For the event, Shegerian delivered his presentation, "The Insecurity of Everything: How Hardware Data Security Has Become the Most Important Topic in the World" to the international gathering of IT professionals and experts. During the presentation, he shared the latest information about the very real problem of hardware hacking and how that issue became even more serious during the pandemic, with so many people working from home. Shegerian also explained critical information for businesses to help them keep their private data – and the data of their customers – protected.
One of the most popular and important ITAD-related conferences in the world, the ITAD Summit invites attendees to explore the rapidly changing trends and technologies that are driving transformation in the ITAD industry. The ITAD Summit is where ITAD comes to life, and where ideas become energized. Event sessions cover advances in technology, IT processes, and trends that help organizations expand their possibilities.
"At the ITAD Summit events we aim to spark proactive conversation and discussion of best practices across the rapidly evolving ITAD landscape," said Robert Tokarchyk, co-founder of the ITAD Summit conference. "The ITAD Summit is a semi-annual ITAD conference exclusively focused on connecting professionals in the ITAD industry. It has been rewarding to be able to provide an event where our attendees could see the very best in the industry's thought-leaders, suppliers and pioneers, like John Shegerian, who was able to share up-to-the-minute perspectives on vital issues and challenges impacting IT management today."
"It was a great honor and privilege to be here in person at the ITAD Summit in Huntington Beach, sharing information on one of the most critical and pressing issues in society today – the hardware hacking of private data," said Shegerian. "This event is vitally important to organizations of all shapes and sizes, because it gives thought leaders from all over the world the opportunity to share what they know and discuss vital best practices for ITAD. Communication and education are vital if we are to problem-solve and work together to create solutions that protect our planet as well as our digital privacy and security."