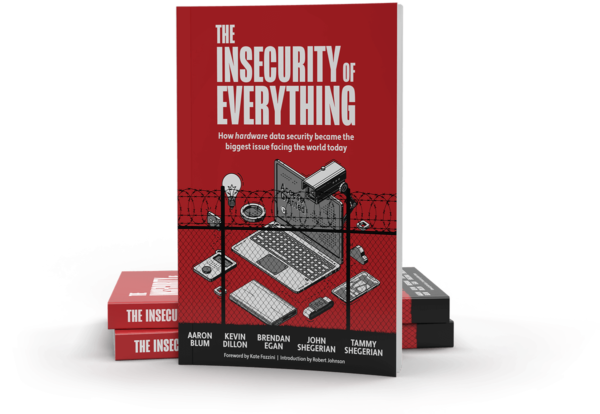 John Shegerian, Chairman and CEO of ERI, the nation's largest fully integrated IT and electronics asset disposition provider and cybersecurity-focused hardware destruction company, was interviewed on the main stage for a special presentation on data protection and cybersecurity at the Reverse Logistics Association (RLA) 18th Annual RLA Conference & Expo last week at the Mirage in Las Vegas.
Featured in a one-on-one interview style discussion with Tony Sciarrotta, RLA's Executive Director, Shegrian discussed the latest trends and challenges in cybersecurity and the "Insecurity of Everything." All attendees of this year's RLA event also received a copy of the Amazon #1 best-selling 'Insecurity of Everything' book Shegerian co-authored.
During the presentation, Shegerian shared with Sciarrotta and the RLA audience the latest information about the very real problem of hardware hacking and how that became even more serious during the pandemic, with so many people working from home. Shegerian also explained critical information for businesses to help them keep their private data – and the data of their customers – protected.
The annual RLA Conference & Expo is the worldwide premier reverse logistics event for industry professionals. The event focus is for third party solution partners to help manufacturers and retailers become aware of reverse logistics support on a global basis.
"John Shegerian, one of the industry's true thought leaders, not only spoke with me and our audience about the growing nightmares with returned technology containing our personal data, he even shared a copy of his book 'The Insecurity of Everything' with the attendees," said Sciarriotta. "John expertly delivered an important message to attendees of the conference that matches the RLA mission to reduce returns, process them properly, and find the highest possible recovery for processed goods. We really appreciate John and ERI's contributions and the work they do."
"It was a great honor and privilege to be on stage with Tony at the RLA Conference & Expo, sharing information on one of the most critical and pressing issues in society today – the hardware hacking of private data," said Shegerian. "RLA is vitally important organization, providing the reverse logistics community with critical thought leadership and an opportunity for leaders to share what they know and discuss vital best practices. Communication and education are vital if we are to problem-solve and work together to create solutions that protect our planet as well as our digital privacy and security. We're grateful to Tony and RLA for including such critical dialogue at this important event."