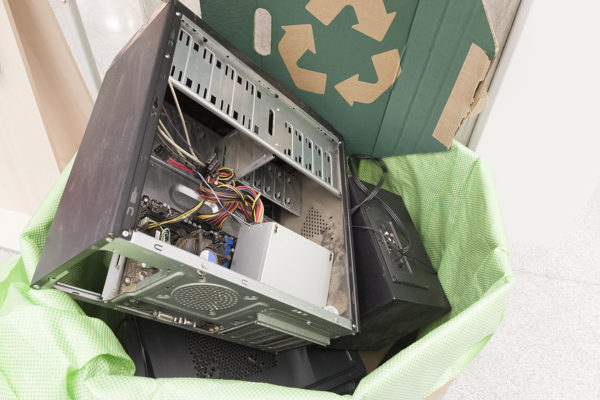 NEW ORLEANS, September 20, 2023–(BUSINESS WIRE)–At the E-Scrap Conference and Trade Show 2023 in New Orleans on Tuesday, Kevin Dillon, Co-Founder, Chief Marketing Officer and Chief Sales Officer of ERI, the nation's leading fully integrated IT and electronics asset disposition provider and cybersecurity-focused hardware destruction company, was featured on a panel of e-waste recycling experts titled "Tips to Tackle Problematic Material Streams."
The panel took a deep dive into best practices in efficiently identifying and managing difficult-to-recycle electronic products and components. The discussion with Dillon and other experts from the sector covered insights on innovation and how the material stream continues to evolve, especially when it comes to the proliferation of lithium-ion batteries and solar panels.
On the previous day, David Hirschler, ERI's Senior Director of Sustainability & Legislative Compliance participated in two panel discussions: the IEMN Product Standards and Certification Programs session; and as part of a Workshop on Key Challenges Under State Electronics Recycling Laws Presented by the National Center for Electronics Recycling.
"We're grateful to have been asked by our friends at E-Scrap to participate in these spirited discussions about the direction our industry is going at such an important conference," said Dillon. "It's key that we as an industry focus on the various ways we can harness innovation to continue to evolve. And each step of the way, we must never lose sight of the importance of responsible recycling, environmental responsibility and the proper destruction of data."
A leading industry event, E-Scrap annually hosts more than 1,200 attendees from more than 35 countries. This year's conference offered a bustling exhibit hall, tear-down demos, a series of presentations, sessions and Q&As featuring leading industry executives and associations.
ERI is the largest fully integrated IT and electronics asset disposition provider and cybersecurity-focused hardware destruction company in the United States. ERI is certified at the highest level by all leading environmental and data security oversight organizations to de-manufacture, recycle, and refurbish every type of electronic device in an environmentally responsible manner. It is the first and only company in its industry to achieve carbon neutrality at all its facilities nationwide, and the first to achieve SOC 2 Type I and II certification for security and data protection. ERI has the capacity to process more than a billion pounds of electronic waste annually at its eight certified locations, serving every zip code in the United States. ERI's mission is to protect people, the planet and privacy. For more information about e-waste recycling and ERI, call 1-800-ERI-DIRECT or visit https://eridirect.com.
View source version on businesswire.com: https://www.businesswire.com/news/home/20230920204978/en/
Contacts
Paul Williams, 310/569-0023, paul.williams@eridirect.com