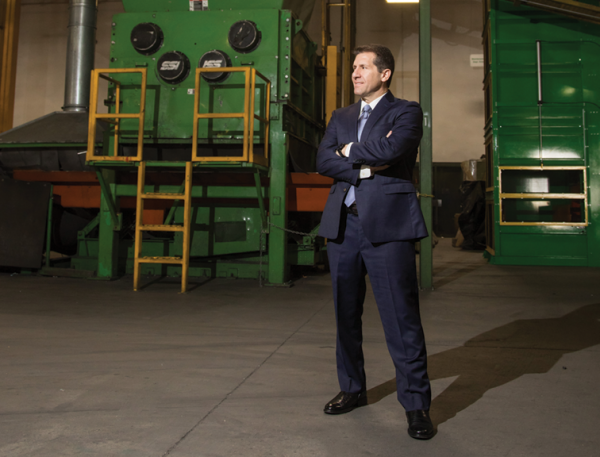 SAN JOSE, Calif., October 25, 2023–(BUSINESS WIRE)–John Shegerian, Chairman and CEO of ERI, the nation's largest fully integrated IT and electronics asset disposition provider, was a featured speaker today on a circular economy panel at the VERGE23 conference in San Jose.
The panel, titled "Circular Principles in Clean Energy Tech" was moderated by Maria Curry-Nkansah, the Senior Research Advisor and Lead for Circular Economy for Energy Materials and Technology at the National Renewable Energy Laboratory.
In the panel discussion, Shegerian shared insights on responsible recycling of end of life technologies alongside fellow experts Jesse Simons, Co-Founder of SOLARCYCLE Inc.; and Ryan Gallentine, the Policy Director at Advanced Energy United.
Produced by GreenBiz, VERGE is the leading climate tech event accelerating solutions to the most pressing challenges of our time. It attracts thousands of leaders — from business, government, solution providers and startups — working together to address the climate crisis across six strategic areas: clean energy, sustainable transportation, carbon removal, regenerative food systems, net-zero buildings and the startup ecosystem.
"It was a great honor and privilege to be on stage with my esteemed colleagues at VERGE23 this year," said Shegerian. "Our friends at GreenBiz produce vitally important impact events, providing decision makers, investors and policymakers with critical thought leadership and an opportunity for experts to share what they know and discuss vital best practices. Communication and education are vital if we are to problem-solve and work together to create solutions that protect our planet. The responsible recycling of batteries, solar panels and all forms of electronic devices is a critical part of that discussion. We're grateful to GreenBiz and the organizers of VERGE23 for including such impactful dialogue at this timely event."
ERI is the largest fully integrated IT and electronics asset disposition provider and cybersecurity-focused hardware destruction company in the United States. ERI is certified at the highest level by all leading environmental and data security oversight organizations to de-manufacture, recycle, and refurbish every type of electronic device in an environmentally responsible manner. It is the first and only company in its industry to achieve carbon neutrality at all its facilities nationwide, and the first to achieve SOC 2 Type I and II certifications for security and data protection. ERI has the capacity to process more than a billion pounds of electronic waste annually at its eight certified locations, serving every zip code in the United States. ERI's mission is to protect people, the planet and privacy. For more information about e-waste recycling and ERI, call 1-800-ERI-DIRECT or visit https://eridirect.com.
View source version on businesswire.com: https://www.businesswire.com/news/home/20231025376269/en/
Contacts
Paul Williams, 310/569-0023, paul.williams@eridirect.com