The Challenge
All retailers are mandated to comply with the myriad of both environmental and data protection requirements including the Payment Card Industry Data Security Standard (PCI DSS).
75% of U.S. retailers have had a data breach, half in the last year. Dozens of retailers have been fined for environmental violations over the last few years.
As retail organizations refresh hardware, data can remain on a wide variety of devices including computers, mobile devices, copiers, printers, and POS devices. Unless those devices are data sanitized or destroyed properly, customer and proprietary data may still be present, especially if ineffective means such as primitive physical destruction methods are used. This exposes the retailer to the potential for a costly data breach and reputation damage.
The environmental issues are equally significant for retailers. E-waste only comprises 3% of the waste stream to landfills, yet accounts for 70% of the toxic substances found in landfills, including lead and mercury. Worse yet, much of the domestically generated e-waste is shipped to developing countries where it is processed unsafely exposing communities, especially children, to extremely high levels of hazardous substances. A retailer's brand tied to discovery of its electronics in developing countries can be catastrophic.
Choosing ERI is the best way to safeguard your organization for IT and electronic asset disposition. For more information on how ERI can help your organization as we have our other retail clients, or for a free assessment of your compliance with applicable regulations, please talk to a representative.
Talk To A Representative
Protect your Organization
The issue is twofold: A retailer must meet the challenge of both protecting customer data contained in end-of-life equipment while also ensuring both data and non-data bearing electronics equipment are properly recycled to comply with all applicable regulations and to protect the reputation of the retailer.
ERI is the largest fully integrated IT and electronics asset disposition service provider in the U.S. – retailers need wide geographic coverage typically tied to distribution centers and a wide geographic dispersion of locations. We can service retailers throughout the country through our eight locations. Retailers have a wider range of IT and electronic assets than many other industries, so we can meet the needs of retailers better than our competitors. Self-checkout equipment, POS devices, scanners, mobile devices, and the wide range of electronic product returns all are within the capabilities of ERI to process and recycle.
ERI specializes in retail – Reverse logistics, corporate IT asset refreshes, Point of Sale (POS) device refreshes, product recalls, take back recycling programs, retailers as resellers, box programs, asset resale and more – we know retail.
We 100% guarantee that there won't be any chance of an environmental fine or public damage to your reputation and a 100% guarantee you and your customer's data will be wiped from any IT and electronic assets if you use ERI.
ERI also provides comprehensive data destruction and electronics recycling services with a defensible "audit trail." This enables you to demonstrate compliance with all requirements for data destruction under the applicable PCI requirements as well as for environmental compliance.
See How ERI Helped This Fortune 500 Retailer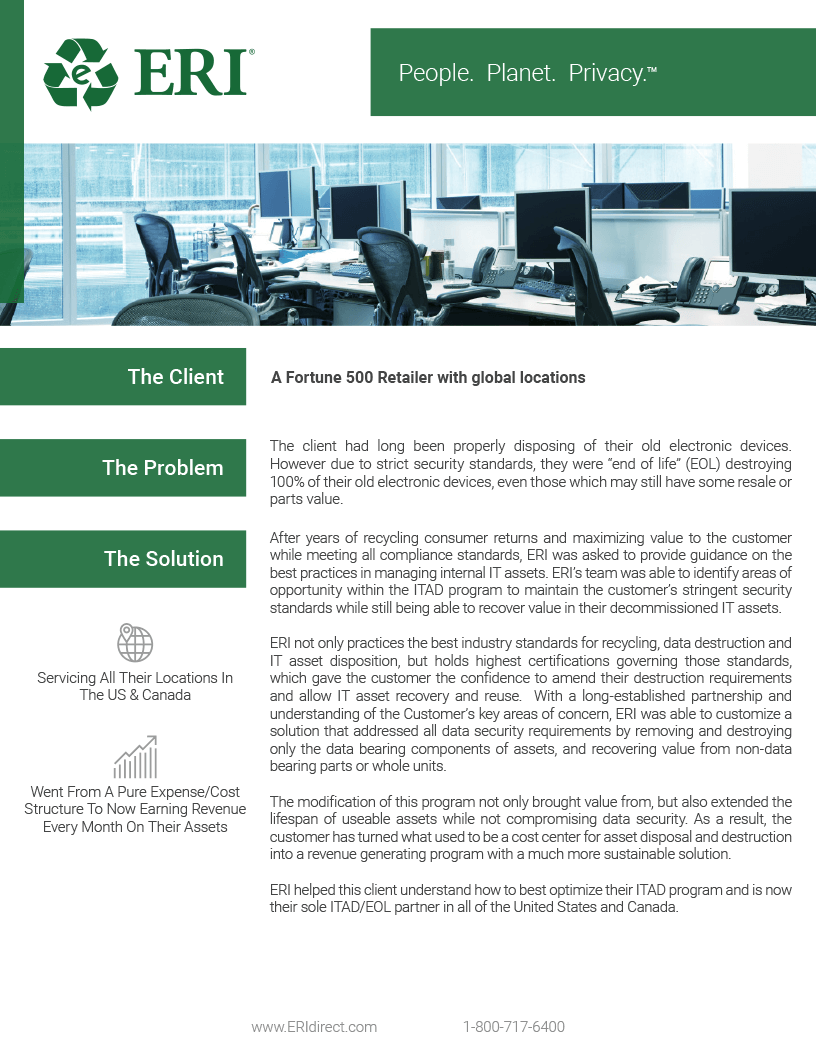 Download our Retailer Case Study
Relied Upon by Retailers in all Sectors