ERI has conducted thousands of collection events across the U.S. for corporations, communities, and non-profits ranging from 4 hour to multi-day events. Electronics can be dropped off at the event and ERI will receive, package, transport and recycle all electronics.
Events are regularly hosted as yet another avenue to reach and educate consumers. The sense of community resulting from these events can create long-term changes to the collection and recycling infrastructure within an organization or community.
ERI is capable of conducting e-waste recycling events at any location and can manage events full with our trained staff and event resources. ERI's team is skill at assisting in the following:
Site Selection
Environmental Awareness
Marketing
Supplies
Logistics
Labor
Environmental Education
Promotion
Safety
To view a list of current recycling events, click here.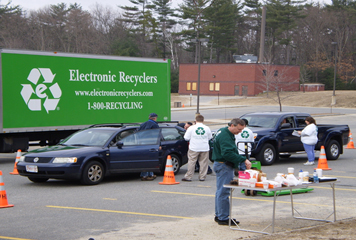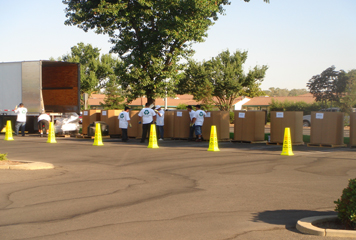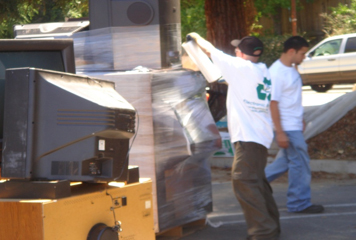 ERI is the largest fully integrated Electronics & IT Asset Disposition (ITAD) provider and cybersecurity-focused hardware destruction company in the United States.

Contact An ERI Expert
Did You Know?
Just 1 gigabyte of data can equal as many as 675,000 pages of information.
Most computer hard drives are 500GB, meaning they can contain up to 337.5 million pages of information!
MIT tested over 150 used hard drives and over 92% contained recoverable sensitive information including social security numbers, credit card numbers, medical records and more.
An average small data breach costs a company $3.5 million dollars.
The two most common causes of data breaches are viruses/malware & misappropriated e-waste.
Many states mandate e-waste recycling, and more companies are now starting to mandate data destruction for company devices.
Electronics are the fastest growing solid waste stream in the world.
E-waste can contain lead, mercury, cadmium and other hazardous materials which when improperly recycled can leach into the soil and groundwater.
More devices today contain sensitive data, from smartphones to computers to tablets and beyond. This data must be destroyed when a device is deemed obsolete, or the information can be obtained by e-waste data miners.
Previous
Next
The ERI Advantage
Learn more about ERI by clicking on each advantage below.
ERI wipes devices in accordance with Department of Defense (DOD) and National Institute of Standards and Technology (NIST) standards before being sent to its state-of-the-art e-waste shredders. To further ensure the safety and security of client data, ERI offers video verification of process as well as a Certificate of Destruction.

ERI is the nation's largest e-waste recycler, with nine facilities servicing every zip code nationwide, and partners around the globe. It doesn't matter where a company, organization or individual is located, ERI is here to serve.

Electronic devices are assigned a serial number, enabling tracking from entry to final disposition using ERI's proprietary technology, Optech™. Information regarding electronic devices can be accessed at any point in the destruction and recycling process, ensuring complete transparency and verifying all regulatory requirements have been met.

ERI was the first e-waste recycler in the U.S. to be dual-certified by e-Stewards and R2, demonstrating its continued commitment to maintaining the highest environmental standards.

No matter the type of organization or company, ERI can help safely and responsibly recycle electronic devices, offering add-on services such as glass cleaning, mail back, asset refurbishment, trailer staging, direct pick- up and white glove service, among others.