How ERI Recycles Light Bulbs
Fluorescent bulbs, CFLs and high-intensity discharge lamps all contain small amounts of mercury. Though these bulbs are known for their energy savings compared to incandescent bulbs, their safe disposal at the end of their lives is imperative.
If these bulbs are collected intact at recycling centers, the mercury can be safely harvested from within and reused again without fear of environmental contamination. Bulbs also contain glass and plastics, metals and phosphor powder that could potentially be reused. ERI also has a specific box program designed for recycling light bulbs.
Commodities

Battery

Circuit Board

Copper

Freon

Glass

Mercury

Plastic
Facts
Eleven states and multiple local jurisdictions prohibit the disposal of mercury-containing products (including CFLs and other mercury-containing lamps) in solid waste. (source: LampRecycle.org)
---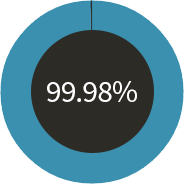 Recycling a mercury-containing lamp ensures that 99.98% of the mercury used in the lamp is safely recovered. (source: LampRecycle.org)