How ERI Recycles Stereo Equipment
Basic speaker assembly has not changed much over the years. Generally, all speakers consist of non-ferrous metals, steel, aluminum, plastics and even paper. The speaker cone is made from treated paper coated with adhesive. The voice coil, which vibrates while attached to the cone and produces the sound output, consists of a plastic bobbin wrapped in copper coiling. The bobbin is placed over the speaker's soft iron core. Speaker frames ordinarily consist of aluminum or steel sheet. A surrounding outer shell can be composed of plastic, metal or wood.
Digital audio receivers, which can be used to play sound across a room or an entire building, can vary in size, shape and makeup depending on their purpose. Older models could contain an optical drive used to read CDs. Newer devices may include a hard drive used to store digital sound files. Speakers and receivers can connect via copper-based wiring or over a network.
Commodities

Battery

Circuit Board

Copper

Freon

Glass

Mercury

Plastic

Wood
Facts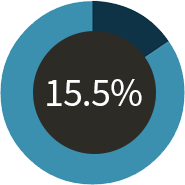 Consumer electronics made up 15.5% of the weight of recycled electronics in 2010 — more than 540,000 tons. (source: IDC)