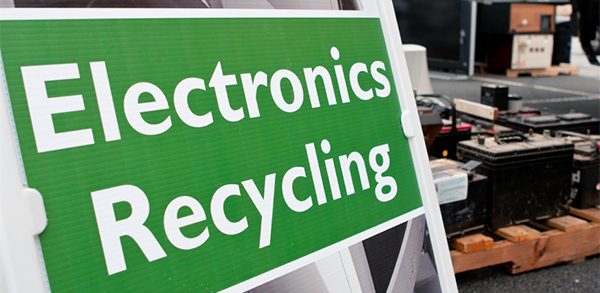 By Veena Clay August 28, 2014
Organizing an e-waste collection event is a fantastic way to get an entire community involved in e-waste recycling. Every year, events are held in cities large and small across the country. Sometimes municipalities organize these events, partnering with schools and social service organizations to plan and promote. In other instances, recycling centers or nonprofit organizations take the helm. No matter the organizer, a collection event can be a worthwhile endeavor for all involved..
Getting started can be tricky, however, since myriad details are involved in organizing an e-waste collection event, and finding just the right balance can be a challenge. A number of excellent resources and aids are available to anyone who would like to have a go at getting started, but first here are a few key steps for organizing an e-waste collection event in your city or town..
Organizing an e-waste collection event: Getting started
1. Decide what to collect
Keep in mind that the term "e-waste" includes a wide variety of electronic devices, any of which could be included in a collection event. This is why it is important to give some thought to the kinds of devices you will collect for your event beforehand..
For a simple approach, you could collect only nonhazardous e-waste such as certain types of laptops, televisions, desktops computers, tablets and mobile phones. This could help educate the public about which devices are nonhazardous and which are not, and why the distinction matters. Check your state's legislation to help with deciding which nonhazardous devices are OK for collection in your state..
It is also a good idea to decide early in the planning process whether or not your collection event will be free or will operate with associated fees. Some fee-based collection events charge to help offset the cost of organizing the event. Others are completely free, with much of the materials needed for set up and planning donated by local businesses involved or granted to a school or organization through special-use funds..
2. Identify a reliable recycling center
An important part of planning an e-waste collection event is knowing where your collected devices will go once they are gathered. This means finding a reliable recycling center willing to take all the kinds of devices you have decided to target during your event..
Check your local listings and online directories for recycling center locations nearest you. You will want a center that is close to your chosen location to lessen the carbon footprint involved in the collection process. Keep in mind that some recycling centers may also be willing to assist in organizing your collection event with on-site services. An online search should reveal the best recycling center for your particular event..
3. Choose a location
The location is key in an e-waste collection event. You will want to choose a place where set-up is hassle-free and permission is easy to obtain. You will also want a place that is conducive to high traffic and that has decent parking capabilities. Each of these factors will prove beneficial if your event happens to be a huge success with lots of participants..
Generally, schools are excellent locations for e-waste collection events. The event can be held either outdoors in one of the school's largest parking lots, or indoors in the school gym. Schools tend to work well since large numbers of people within the community are already familiar with the location and its accessibility and because teaming up with school administrators can help significantly in publicizing the event..
3. Announce the collection event
Now that some of the planning is covered, it may be time to think about exactly how you are going to broadcast the e-waste collection event. This step is extremely important since it will determine how many people attend the event and consequently how much e-waste can be collected..
One of the best ways to publicize an e-waste collection event is to partner with your municipality or a local community-focused organization. Such partnerships can lend the credibility necessary to facilitate a stellar turnout as well as provide a wealth of resources and access to media outlets that you may not have if you choose to go it alone. Such partnerships are a win-win situations for all involved..
4. Set up the event
Setting up an e-waste collection event does not have to be complicated. In fact, a simple setup is best. If you advertised well, you will have participants bringing in a number of devices large and small, so the best way to set up is according to what you have advertised you are willing to collect..
An excellent starting point is a check-in point staffed by one or two volunteers who will have the job of identifying each device that comes in for collection. This first checkpoint can help with keeping things organized. Instruct the volunteers to document the numbers and kinds of devices collected as well as the number of people participating in the event. Additionally, the checkpoint is a great place to offer additional materials or announcements such as flyers for upcoming collection events, e-cycling surveys or helpful tips and reminders about recycling in general..
5. Follow up with collection statistics and acknowledgments
Once the e-waste collection event is over, you will want to put some effort into following up. Follow-up can come in the form of meeting with the facilitators of the event to tally up the statistics, such as the total number of participants, total number and kind of devices collected and the decided best methods for advertising the event..
The follow-up stage is also great for evaluating and analyzing the event itself. What methods worked best before, during and after the event? What methods could use some improvement? What mistakes were made, and how could these be avoided for future events? This type of analysis is essential for successful e-waste collection events down the road..
Additionally, it is always a good idea to publish acknowledgments after an e-waste collection event is complete. This is a great way to say thank you to all volunteers, partners and organizations involved in the collection event and to show public appreciation and recognition to those that supported the effort positively..
Use the tips for an excellent start
The key steps for organizing an e-waste collection event may vary according to the particular dynamics of an individual community. However, all e-waste collection events involve the basic steps noted above. Use these tips to get a collection event off to an excellent start. .