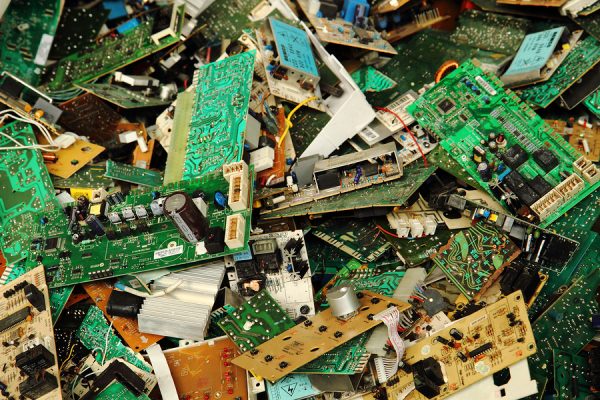 This experience may be very familiar to you. Your old laptop died, and it's too outdated to make it worthwhile to repair. It's time to upgrade to a new ENERGY STAR model. Once the new laptop is set up, and you've transferred any important files, you put that laptop in your closet. Soon, you have boxes of electronics like laptops, monitors, TVs, and cellphones built up.
In some areas, it's easy to recycle those electronics. You might have a drop-off bin within walking distance. You live near a store like Staples or Best Buy where you can bring them a few at a time for recycling. But, what if you can't? Across the country, there are areas where electronics recycling is very hard to accomplish.
In 2019, just over 59 million U.S. tons of e-waste were generated around the globe. Asia had the largest percentage with just over 27.4 million U.S. tons, but North America. wasn't far behind with almost 14.5 million U.S. tons. Only 15% of that North American e-waste was properly recycled. That means 12.325 million tons were sent to landfills or shipped to countries using improper, often unsafe, recycling practices that put the groundwater, soil, and workers at risk of poisoning from some of the metals found in electronics.
Short Supply Is Worsening Issues
The pandemic found many recycling centers experiencing staffing issues. Some centers shut down. Others had to limit hours, which makes it harder for people to get to the facilities when they're open. Plus, there's confusion on what can be recycled, or there are strict limits. Businesses are often told they cannot drop off electronics or have to pay higher fees.
Wages in some areas are not enough to draw or retain workers for recycling jobs. If you look at job listings on Indeed, you'll find entry-level e-waste recycling jobs ranging from $15 to $19 an hour across the U.S. Jobs that require at least two years of experience pay $18 to $25 an hour. In some areas, this doesn't meet MIT's calculations for a living wage.
Across the country, recycling programs are shutting down or limiting how much they'll accept. Some stopped accepting certain items. As demand for e-waste recycling increases and supply diminishes, what are your options?
Look for Alternatives to Drop-Off Sites
Before you panic, check your state's guide to recycling e-waste. There may be facilities you don't realize are there. Some tend to advertise their services on social media sites like Facebook, and if you don't use Facebook, you'd never realize it's an option. If you're a consumer, you can use ERI's e-waste recycling tool to find a place to recycle certain items.
If there is a facility near you, ask what they do with e-waste. Make sure they partner with a company that is R2, NAID, and e-Stewards certified. You don't want your items heading overseas where the data isn't destroyed properly or items are tossed into landfills. The other questions to ask them are:
Do you have a limit on how many items you can drop off?

Is there a fee? If so, what is it? (Often, there is a fee per item that varies with the item.)

Do you have to make an appointment?

What are the hours?
If you don't have a facility nearby, look at the manufacturer. Many have mail-back programs where they pay the postage. Here are a few options.
That's a few of the big electronics companies. Many others have programs or work with ITAD companies like ERI for safe, environmentally-friendly recycling options. Check there and see if something works for you. If you have a lot of electronics to recycle, you may find Best Buy's new service to be most convenient.
Best Buy came up with a Standalone Electronics Haul-Away Service in 2022. Pay $199.99 and Best Buy will send a truck on a scheduled day to pick up two large items (TVs, major appliances, over-the-stove microwaves, computer monitors, etc.) and unlimited smaller items like cell phones, cables, printers, fax machines, laptops, towers, phones, audio equipment, etc.)
It's incredibly handy to get rid of years of electronics at once. The items are hauled away, packaged up, and shipped to an ERI facility for processing. There are a few things to keep in mind, however.
Businesses and organizations cannot use it, it's residential only.

No paperwork is given when items are picked up. Tracking isn't part of the service.

Check the list carefully to make sure items are allowed, such as small kitchen appliances and music equipment like mixers, keyboards, or karaoke machines, as they are not accepted.

Have paperwork in hand and ready to show the driver. A consumer tried the service to recycle decades of old electronics. When the driver arrived, he told her that he had not been told she'd paid $200 for haul-away and he was only expecting one or two items and didn't have room left on the truck for all of her old electronics. He required proof that she'd really paid the $200 haul-away fee.
Staples takes up to seven electronic items. Bring them to the store and they'll recycle them responsibly. Best Buy offers similar drop-off recycling, but the limit is three items per day. Home Depot has battery recycling boxes in their stores, and you can also recycle CFL bulbs. Look into mail-back programs with Amazon, Apple, and Walmart.
ERI Offers a Simple Way to Recycle
Would it help to have an easier way to recycle your household or business electronics without having to make and keep an appointment or rearrange your schedule to meet a local facility's inconvenient hours? ERI offers a service where you purchase a box that's sent to your address. Fill it up, arrange a contact-free pick-up with UPS, and the items go directly to the nearest ERI facility. You're able to track the progress for each step of the delivery and e-recycling. Data is destroyed and items are responsibly recycled.
ERI's Secure Home and Business Recycling Boxes come in five sizes:
Small (9"x5"x3") – Holds up to six pounds

Medium (18"x14"x4") – Holds up to 15 pounds

Large (20"x20"20") – Holds up to 70 pounds

Half Pallet (34"x24"x32") – Holds up to 360 pounds

Full Pallet (41"x33"x32) – Holds up to 600 pounds
You can purchase them in "Standard" or "Serialized" options. Serialized gives you a tracking report containing the item's make, model, and serial number, which is important for businesses.
Plus, there are recycling boxes for lamps and batteries if you have those to recycle. Battery boxes can be used to recycle alkaline, lead, lithium, mercury, NiCd, NiMh, and silver batteries.
It's so much easier to pack up items at your leisure and ship them back without having to leave your home or office or schedule an appointment at a recycling facility. Visit ERI's online store to purchase the boxes you need for convenient, responsible recycling of all of your electronics.