The Challenge
Casinos, hotels, and other entertainment hubs are filled with high-tech gaming equipment which not only poses a threat to the environment when improperly disposed of, but risks players and customer's information being leaked.
Gaming machines in casinos must meet the standards set forth by the CSGI. Gaming Laboratories International is responsible for testing machines to make sure they meet these standards that cover the hardware, software, cabinetry, and money collection components.
Once a machine no longer meets these standards or are deemed obsolete by ownership, they're removed from the floor. At this point, some are altered to eliminate the chance of it being used for gambling purposes. Integrated player identification components must be wiped clean or destroyed to protect players' account information.
Owners of gaming machines are mandated to follow a myriad of both environmental as well as data protection requirements, including the Payment Card Industry Data Security Standard (PCI DSS).
The Solution - Protect Your Organization With ERI
The issue at hand is twofold: A casino or gaming machine provider must meet the challenge of protecting their player's data contained in gaming devices when they reach end-of-life while also ensuring all electronics, both those with as well as without data, are properly recycled to comply with all applicable regulations and to protect their reputation.
ERI is the largest fully integrated IT and electronics asset disposition service provider in the U.S. – casinos need wide geographic coverage based on the location of their hotels and casinos. We can service casinos and gaming machine providers throughout the country through our eight locations.
We 100% guarantee that there won't be any chance of an environmental fine or public damage to your reputation and a 100% guarantee you and your customer's data will be wiped from any IT and electronic assets if you use ERI.
ERI also provides comprehensive data destruction and electronics recycling services with a defensible "audit trail." This enables you to demonstrate compliance with all requirements for data destruction under the applicable PCI requirements as well as for environmental compliance.
See How ERI Helped This Large Manufacturer of Slot Machines and Casino Electronics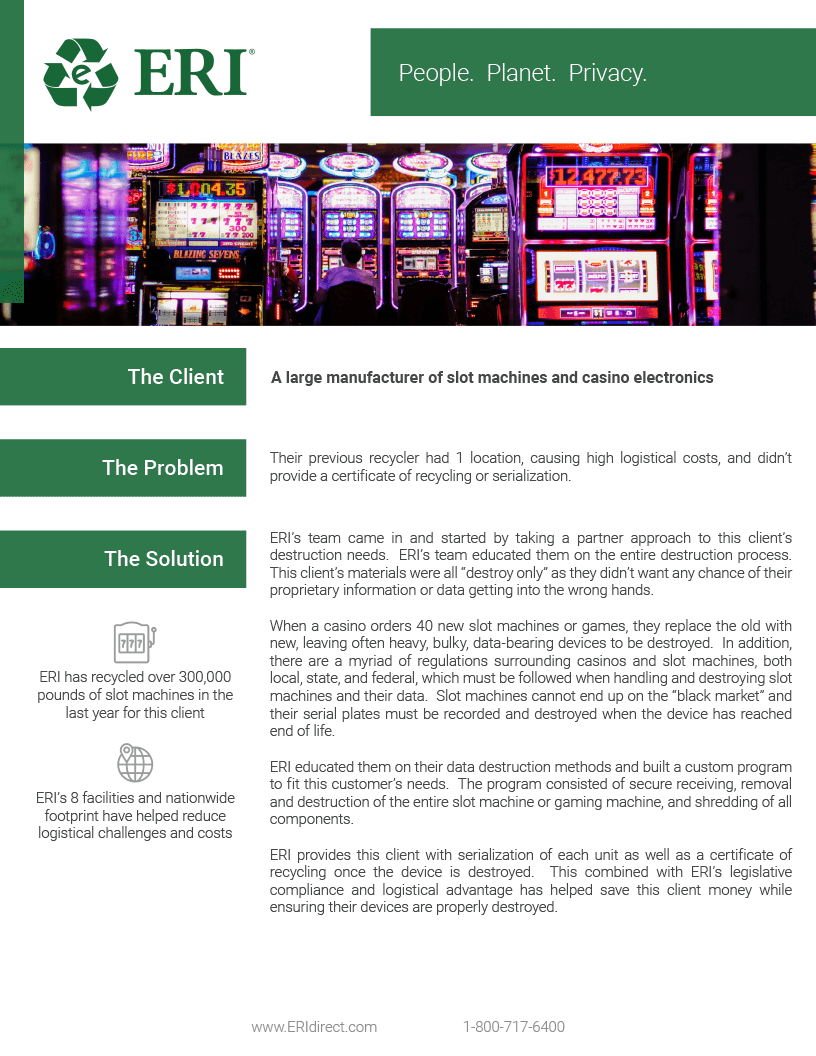 Download our Casino Case Study